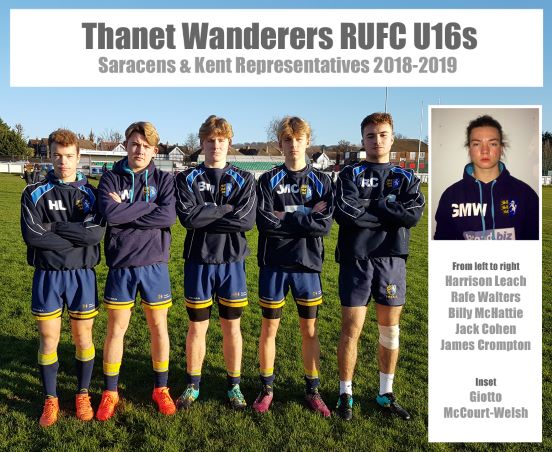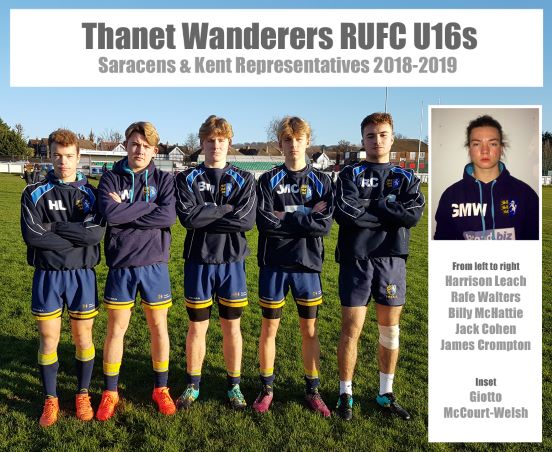 SUPER SIXTEENS
Thanet Wanderers development programme results in further successes for Under 16s players.
Congratulations to these young players and their coaches on their progress in the sport.
The Picture, with notes by Head Coach Ian Lodge, shows (L-R)
Harrison Leach
Harrison is a dynamic half back and plies his trade predominantly in the scrum half position but with significant experience at fly half having converted from the back row in 2017. He is a talker, an organiser and as such has captained the U16s for the past year. Harrison has been with the Kent set-up for 4 years.
Rafe Walters
Rafe is a strong-running, strong-tackling winger or outside centre and has made impressive progress since his switch from football with Ramsgate FC in mid-2018. His aggressive running style has seen him average more than one try a game since committing to rugby full-time in summer 2018. Rafe is new to the Kent set-up this season and is looking to impress on his first few sessions.
Billy McHattie
Billy has played across the team for the past all over the park and had been a successful full back before a switch to the back row in 2017. His powerful ball carrying and bombastic tackling has seen him make the number 8 shirt his own. Billy has joined the Kent set-up this season after a successful trial in Autumn 2018.
Jack Cohen
Jack is a talented ball player with swift delivery off both hands and an evasive running style. He has played mostly in the fly half position but is capable of playing anywhere from scrum half backwards. Jack has fought his way back into the Kent rugby squad and has recently been selected to move up the hierarchy into the Saracens set-up in late 2018.
James Crompton
Since switching from football with Ramsgate FC in 2015, James has impressed with his ball carrying in the outside channels and can play in the centres or anywhere in the back three. Shortly after his switch to rugby, James has been a regular in the higher levels of the Kent set-up and continues to impress the coaching team.
Giotto McCourt-Welsh (inset picture)
Giotto is a strong-running prop forward and with his added pace is a handful for any defence. He is 100% committed in the tackle and has shown over the past few seasons that he leads defence and attack with his actions. Giotto has been with Kent for 4 years or more and joined the Saracens set-up in early 2017.
Thanet Wanderers Under 16s have large squad of just short of 40 players and regularly field two sides. They were Kent Cup quarter finalists, Kent Bowl finalists and Kent 7s finalists in 2017/2018 and have made a good start this season.
They are led by head coach, Ian Lodge assisted by Glenn Leach, Scott Tift, Ron Beck, Martin Gilham and Lee Halliday who are backed by a supportive group of parents.
The next scheduled fixture is at home against Aylesford on Sunday 6th January (kick off 11am)
29 December 2018