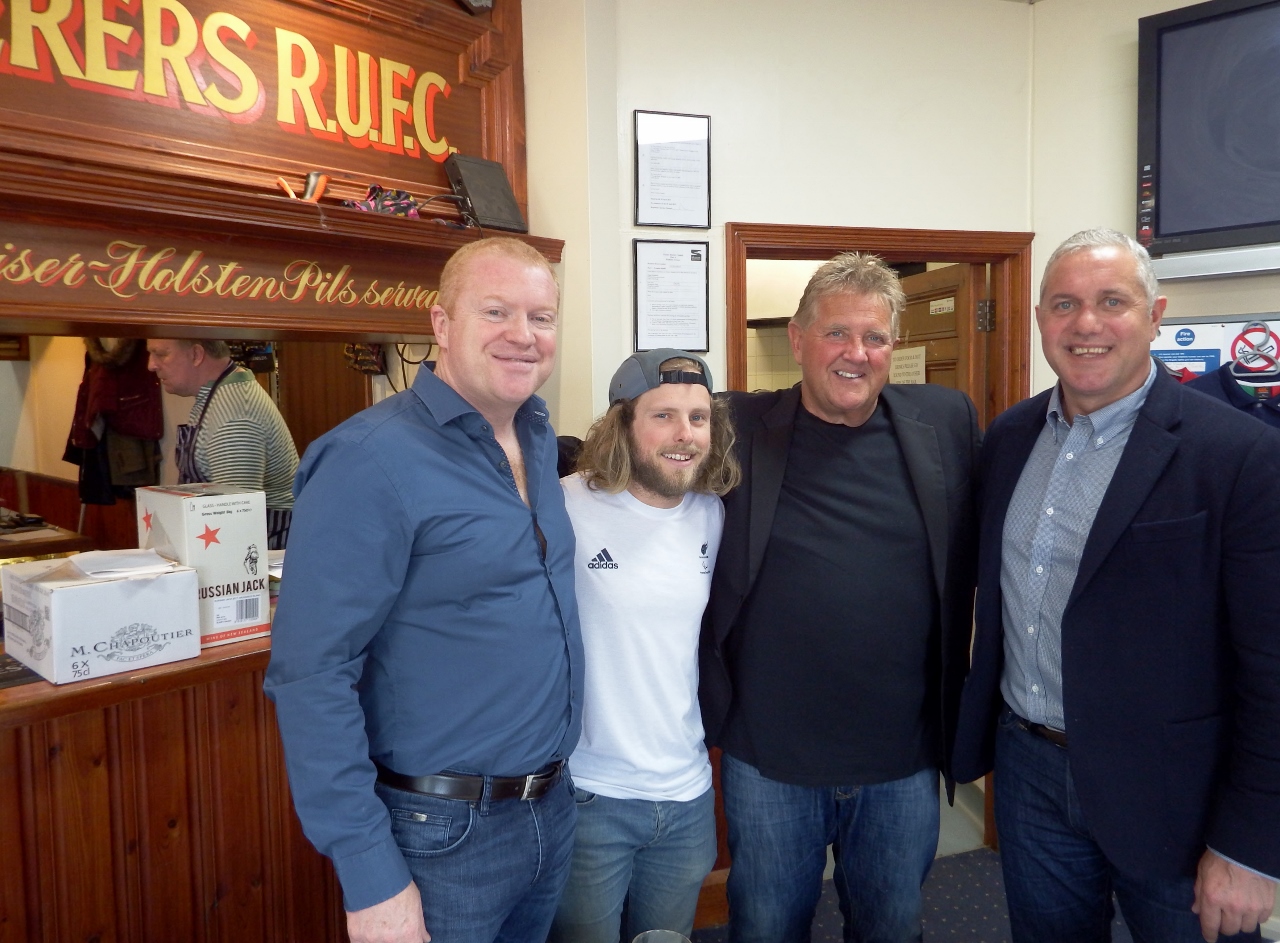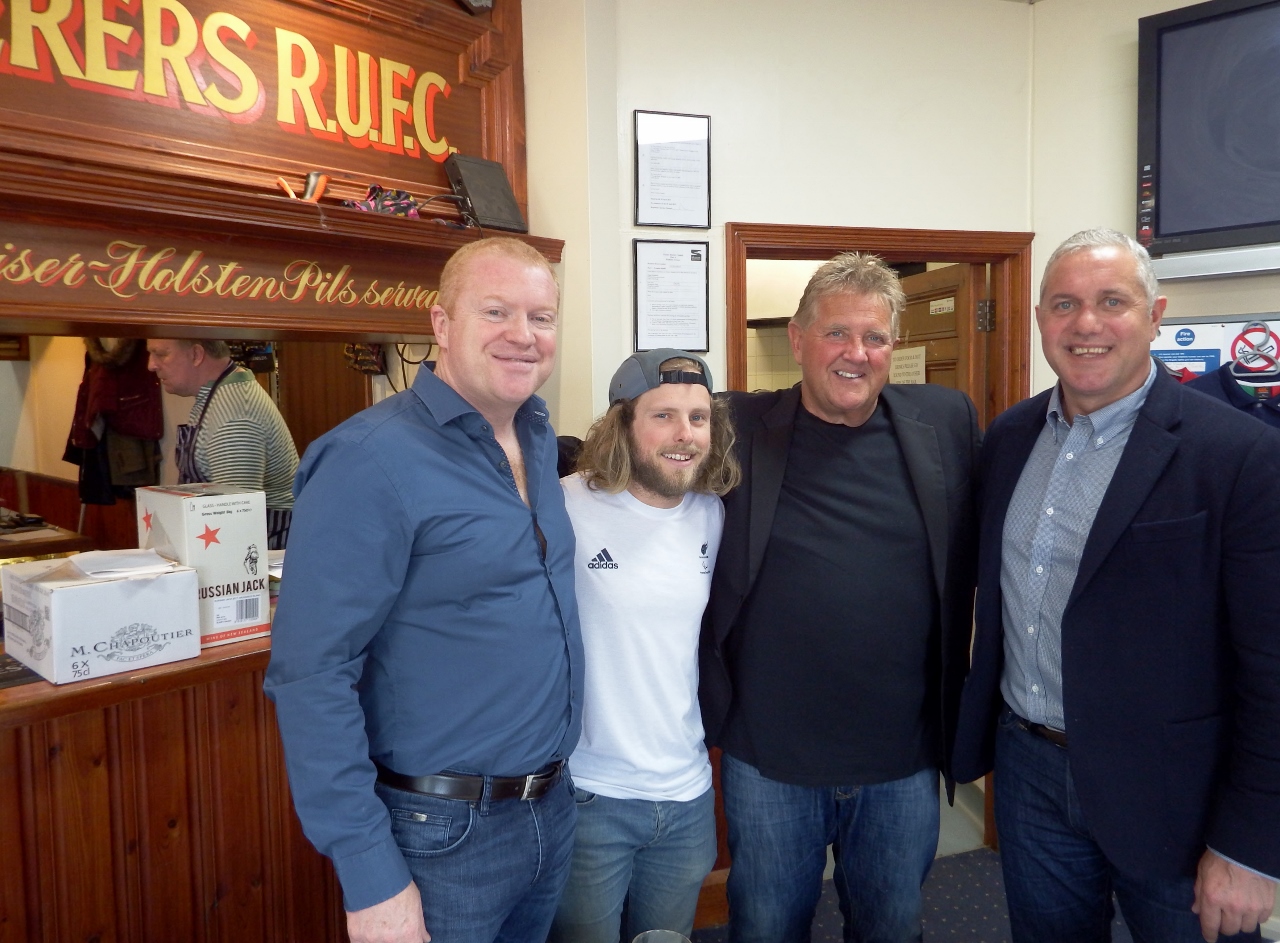 THANET WANDERERS PAST PLAYERS AND FRIENDS CHARITY RE-UNION LUNCH 2018
OVER £8000 RAISED ON THE DAY BY THANET WANDERERS SUPPORTERS
This was the third occasion that ex Thanet Wanderers players and friends from Chatham House Grammar school have travelled from far and wide to remember Paul Keohane. Paul was a talented all round sportsman and ex Wanderer whose untimely death in 2015 prompted his brother John and friends Chris Marson, Gary Frame and Jimmy Greene to inaugurate an annual reunion and fund raising lunch. Chris was unable to attend this year's lunch as he was leading the U14s annual tour.
The function was held at the Thanet Wanderers Clubhouse where over a hundred sat down to enjoy an excellent curry lunch prepared by Paddy Mcevely ably assisted by Andy May. Kelly Smith provided alternative dishes and led the efficient table service team by example. The regular crew, overseen by Gerry Doyle, provided unflagging bar service throughout a very long day.
Jimmy Greene and Gary Frame gave details of how the funds raised at previous lunches had been distributed and introduced one beneficiary, Broadstairs Paralympian Snow Boarder James Barnes-Miller who has recently returned from South Korea after competing in the 2018 Winter Olympics. His participation looked unlikely after he was robbed of his custom-built equipment in October last year but thanks to a generous donation from the Paul Keohane fund he was able to replace stolen equipment and achieve his ambition. He did not win a medal in Pyeongchang but did achieve two silvers and a bronze in world cup events to qualify for the games. Future plans for the charitable fund include the reinstatement of the schools liaison initiative and ambitious schemes to help those youngsters whose family circumstances make it difficult to equip themselves and attend regular training sessions. There will also be a Youth Summer Festival at the club on 30th June funded by the Paul Keohane Fund to support existing and prospective players
John Keohane conducted the auction of donated items including paintings by renowned local artist Neil Fletcher and training kit from last year's Lions tour to New Zealand given by ex Wanderer Prav Mathema who was a physiotherapist on the tour. A box of 'Thundering Molly Cider' donated by The Yard of Ale pub proved very popular at £3 a pint. The high point was the draw for a framed Lions shirt autographed by the squad which was won by Ross Bell who generously donated the valuable souvenir back to raise substanially more for the fund. First team coach Gary Hingley announced that Wanderers player Warren Riddell- Broomfield had suffered a serious leg injury in the afternoon's match. An impromptu collection raised over £500 in donations to help the player during his recuperation.
It is planned to again hold next year's luncheon in April, the exact date will be advised when the fixture list is available.


.
24 April 2018