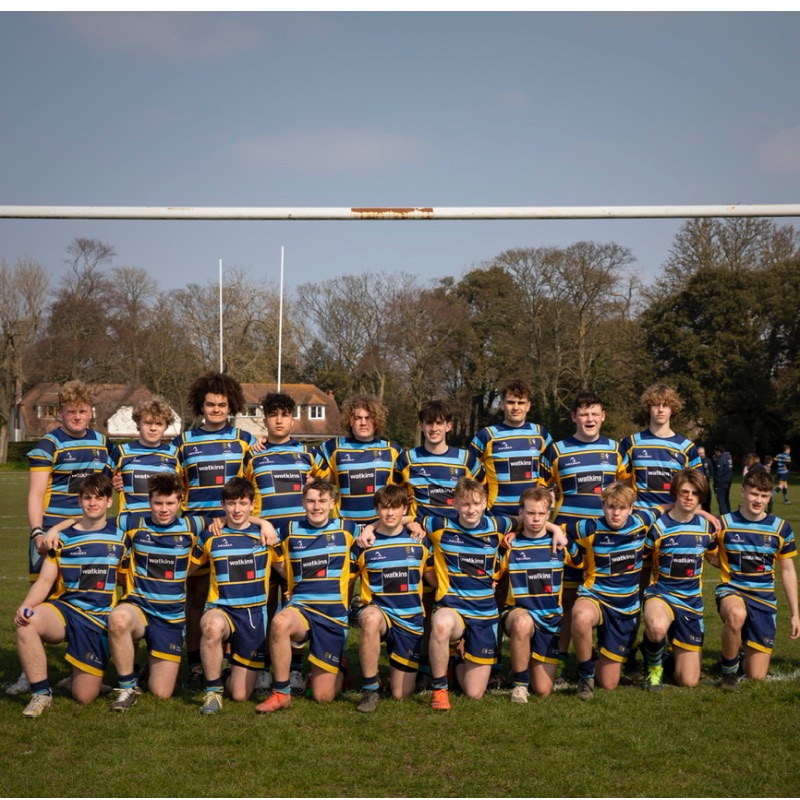 Match Report & Information
Thanet Wanderers Under 16 Blue 15 Vs Old Alleynians 12
Sunday 20th March 2022.
The fifth round of Kent cup games and Thanet Wanderers Under 16s blue team were up against an unbeaten Old Alleynians side at home with our gold team having a bye in this round. Another great crowd at St Peter's with near perfect rugby conditions witnessed a great mornings game.
Thanet had a squad of 19 for the game a few nursing some niggles but all were ready and looking forward to showing what they can do. The blue team were coming off the back of a slightly disappointing performance against Dover last out and were looking to correct this.
As soon as we kicked off, you could tell Thanet we're taking it serious as they looked so focused. Captain Max Anderson had given the team a rousing talk and this showed in his and the teams approach. Vinnie Perkins made some big carries early on.
Our centre partnership of Alfie Pearce and Henry Carruthers both carried well but also showed great defence, coming up against fellow Kent players probably added to the equation. As normal the line out was very good with Finn Hickmott and Isaac Divine both going up at different points.
This season, Thanet's scrums have been very good and although today, they did not get it all their own way, again they excelled. With Sam Stevenson putting the ball in and our very strong and being a menace when needed, and our front row of Fred O'Halloran, Toby Hunt and Anderson controlling the push each time. Gil Smith again showed his skills and work ethnic across the pitch with both big attacks and vital defensive work.
In the 14th minute Thanet were awarded a penalty which Ollie Jordan-Smith cooly slotted over the posts to give Thanet a narrow lead. This seemed to spur the Thanet boys on as two minutes later, Thanet gained possession with Sam Stevenson and then Hugo Evans. Evans set off on a run across the field and eventually passed off to Oscar Andrews who used his speed to make the corner and put Wanderers 8-0 up.
Old A's were very much still in the game and they then pushed harder and were rewarded only three minutes after Thanet had scored when their winger made a good break and stepped inside to then pass off for them to score and once it was converted, put them only one point behind.
With around 5 minutes to half time, Alleynians had a big moment to score when one of their big props went though. First a great tackle by Divine and then Evans holding him up to avoided the score which was a great last ditch effort.
Half time and the score was 8-7 to Thanet. Tight as tight could be. A good display from both sides, both showing great commitment and huge desire to get the win.
The second half started and immediately both sides went straight back at each other, trying to find a way through. Thanet by now had made several changes bringing Owen Read, Ben Couldridge, Charlie Panteli and Archie Kujawinski on.
Read was straight into the action, picking several balls up that had been kicked and under a lot of pressure, he did not panic and carried the ball back up and maintained possession, making lots of meters for the team.
In the 21st minute, Old A's pressure paid off after they looked initially to have been stopped on the line, but perseverance paid off and they crashed over to put them 12-8 up with about 15 minutes to go. Couldridge again showing his great improvements with some massive hits and powerful carries until he received a 'stinger' on his shoulder and had to come off.
Full back Tom O'Callaghan was having to take plenty of their kicks out of the air and push hard back at the opposition, showing exactly why he has been a mainstay in the Kent set up this year. Stanley Ball showed his great pace throughout the game and pushed wanderers up the pitch on so many occasions.
Thanet pushed even harder to get the win and with 6 minutes to go, after brilliant gains from the team we found ourselves camped out on their line, when the ball found its way to Kugawinski and he showed great determination to get the score through a sea of bodies. This was then converted by Panteli to leave Thanet up by three and a tense final showdown.
The final score being Wanderers 15- Old Alleynians 12. A tight game which could have gone either way. Alleynians showed why they are a strong side and played some nice rugby, probably the best we had faced this year.
Today's 'Please Sir' man of the match was a tough choice, as the team played really well, but we chose Isaac Divine as he worked tirelessly, probably had the highest tackle count on the day and made several key tackles and turn overs that made him standout. Well done Isaac.
Thanet Wanderers Gold Under 16s are next up
against Beccehamians and the blue team have a bye in the next round.
Thanet Wanderers Blue 15 Old Alleynians 12
Thanet Blue:
Max Anderson, Vinnie Perkins, Ben Couldridge,Fred O'HALLORAN, Hugo Evans, Finn HICKMOTT, Isaac DIVINE, Gil SMITH, Sam STEVENSON, Charlie PANTELI, Stan Ball, Henry CARRUTHERS, Toby HUNT, Oscar ANDREWS, Tom O'Callaghan, Ollie Jordan Smith, Alfie PEARCE, Archie Kujawjnski, Owen Read.