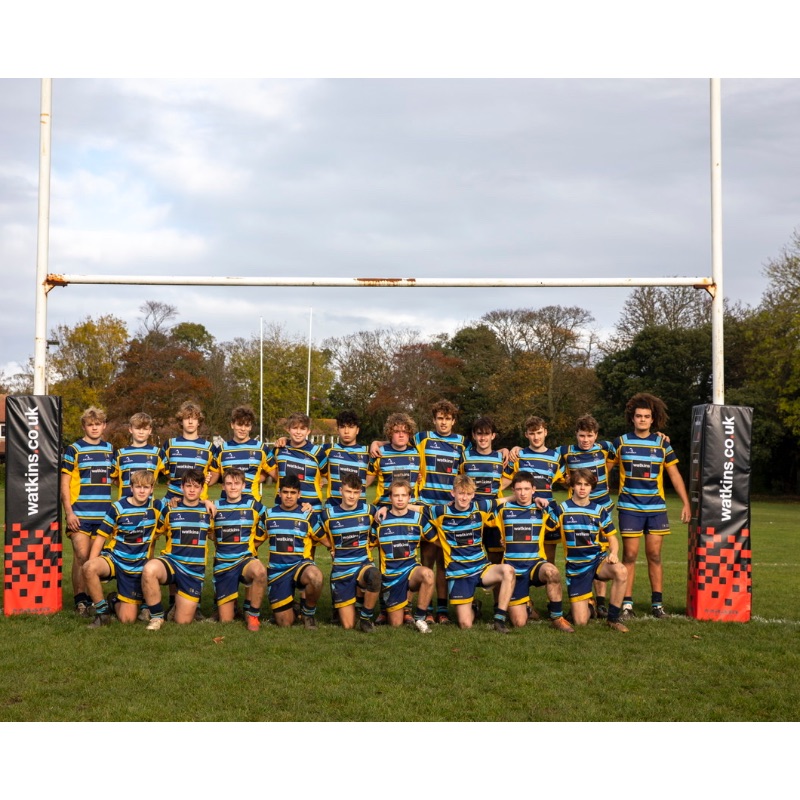 Match Report & Information
Thanet Wanderers Under 16s Vs Canterbury
13th November 2021.
This Sunday Thanet entertained old foes Canterbury at St Peter's. Having not played each other for a couple of years, and having always had keenly contested games together meant it was much anticipated.
Thanet had picked a squad of 21. With a few out with injury and commitments it again gave opportunity to others within the team. Wanderers were coming together soon after having had their previous years presentation evening on the Friday where we celebrated all the squad and successes of the 20/21 season.
Another great crowd at the Ground to watch the Under 16s. The game kicked off and for the first 10 minutes both sides cancelled each other out, testing each others defence but also making lots of mistakes which the referee, Harry Price penalised. Thanet were once again captained by Isaac Divine. Thanet had a new front row with Vinnie Perkins, Fred O'Halloran and Shaheer Khan.
Henry Carruthers assisted by Toby Hunt both playing Centre made some great lines and breaks but Canterbury held firm and both teams were stealing the ball from each other. Sam Stevenson at 9 was having a good day, quick to the breakdown, passing well and keeping the opposition on their toes.
The first score came in the 12th minute when after another penalty, Thanet elected to kick which Charlie Panteli expertly slotted the ball over the post to put Wanderers 3-0 up.
Canterbury hit back virtually immediately when they broke through the lines, some missed tackles and they ran in to go 3-7 up. Finn Hickmott, Gil Smith and Isaac Divine were having to make a lot of tackles to contain Canterbury now as they got their tails up.
Thanet started to grow back into the game. They started to use our wingers Stan Ball and Oscar Andrews but probably needed to give them better service. On the 19th minute Thanet were awarded another penalty that Panteli converted to bring them a point behind.
Archie Kugawinski only playing his second game for the team, again showed promise with some great runs and powerful work around the pitch.
In the minutes before half time Thanet found some form. A quick ball from Panteli to Carruthers and he ran a hard line and avoided the on coming defenders and chose a great pass out to Ball who ran the ball in under the post and Panteli converted the try.
Half time and the score was 13-7 to Thanet. The boys had not played their best but were still 6 points up and looking forward to the second half. A few changes were made with. Jack Brewer, Theo Rowe and Ollie Jordan-Smith coming on.
Wanderers put some good phases of play together with one ending with Andrews going over only to be pulled back for a forward pass, within minutes they went over again, only a more obvious forward pass stopping them extending their lead.
Pressure was building on the Canterbury defence and after a good break by Carruthers, Thanet were deep in the opposition half. After a break down, a quick well timed pass by Rowe put Evan in, with quite a bit still to do but with great determination he managed to reach out to score, this was followed by by Jordan-Smith converting the try.
Further players were introduced with Linus Honey, Zach Ralph and Owen Read. Unfortunately Read only last a few minutes, picking up an injury.
With Thanet 20-7 up, and looking like they were getting into their stride Canterbury showed great character to come straight back into the game. First after a good kick which was collected and ran in, and then with 25 minutes gone a powerful run was finished off and converted to bring the scores to with a point.
In the final 10 minutes it was tense with Canterbury playing the better rugby and Thanet holding strong with good defence.At the final whistle the score was 20 -19 to Thanet. Not their best performance this season but still nonetheless great to get the win over a big powerful Canterbury side.
Wanderers now move on to next week where they are against Sittingbourne. This giving an opportunity to all the boys that did not play today.