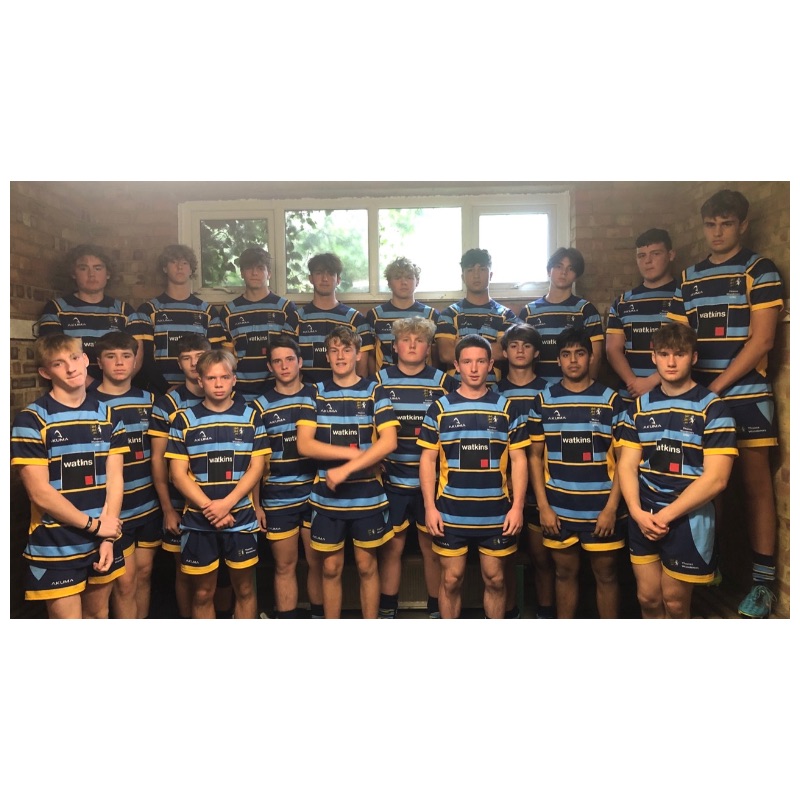 Match Report & Information
Medway RUFC Under 16s Vs Thanet Wanderers Under 16s.
Thanet Wanderers Under 16s went on our travels today, visiting Medway. The morning was a bit overcast but soft under the foot and made for good playing conditions.
Thanet travelled with a squad of 20 for the game. Prior to the game, the lads had their speaker pumping out some tunes they had chosen to make a playlist. We only hoped at this point their decision making we had seen for the music would improve out on the pitch!
The game kicked off late morning and was immediately a physical encounter as expected. Thanet started a little slowly and Medway, gained some early possession and made this pay after only 2 minutes taking advantage of a missed tackle to run in the first score.
Thanet started to gain a hold on the game with Isaac Divine dominating all he came up against, Henry Carruthers, Toby Hunt and captain Max Anderson all having brave ball carries and at the centre of most of our play. After winning a few penalties, Charlie Panteli elected to kick and expertly put the ball between the posts to get Thanet their first points on the board.
Thanet had spells when both wingers Linus Honey and Oscar Andrews waiting for the ball, and when it did come their way it was only for a few poor passes to halt them. Shaheer Khan at prop was again growing in confidence and showing good work rate.
With a spell of both teams testing each other, Panteli picked up the ball and advanced and kicked on. Gil Smith ran from onside and beat the advancing Medway full back to the ball and scooped it up. Smith spirited with nothing but the post in front of him, and made it under the posts just in time. Panteli was even more pleased with himself when he slotted over the conversion. Thanet led 10-5.
Thanet's fitness has been worked on hard by Sam Divine and the players showed him it has paid off as it kicked in as the half continued. First Tom O'Callaghan probed the Medway defence, followed by Vinnie Perkins and Sam Stevenson making great decisive runs. The pressure told in the 23nd minute after great work from Finn Hickmott, the ball finally landed with Hugo Evans. Evans smashed through the Medway players determined to score and he did just that.
With two minutes of the first 35 left, Thanet were putting great pressure on the Medway line following carries by Divine and Fred O'Halloran. The final word of the half went to captain Anderson as he showed great desire to score with a wall of players in front of him.
Half time came and it was 20-5 in favour of Thanet. An end to end match with Thanet being guilty of not taking advantage properly of our speedy wingers with a bit of passing and handling going astray, leaving a good few points out on the pitch. Two changes were made during the break with Stanley Ball and Ollie Burch both coming on.
Thanet came out for the second half ready for action, unfortunately Medway were a little more switched on and straight away narrowed the score with a try and conversion. Great work from Ball ended with Evans who was a long way out, but after evading a couple of tackles, stepped inside and ran in to score just by the posts, which Panteli converted to give Thanet a 27-12 lead.
Around the 12th minute of the half an unfortunate fall after a tackle and ended with the Medway winger sustaining a nasty wrist injury that needed treatment and resulted in him going to hospital. The pitch was cleared to give him and the excellent first aiders room and the game was moved to another pitch.
After a long break and a small warm up the game resumed again with 23 minutes to play. Medway took advantage straight after we resumed to get through some gaps and score.
The Medway score seemed to wake Thanet back up again. Burch make some strong tackles and runs on the right. Constant pressure from Smith, Carruthers, Hunt and Divine was wearing Medway down. Another penalty to Thanet which Panteli brilliantly scored the next three points from.
Owen Read, Zach Ralph and Ben Couldridge were also all on now. Read, bringing his all action cavalier style to the game. Couldridge maintained the packs strength and experienced the frustration of only being able to push 1.5 meters when they could have done so much more. Ralph playing at 9, showed good speed and awareness to keep the tempo of the game up.
Thanet applied further pressure and even with a few of our lads picking up some injuries we maintained the common goal of total effort and commitment and a desire to win. In the 23rd minutes, another tireless run from Carruthers and Ball, pushed Thanet deep into the Medway half. O'Callaghan picked the ball up and with lots to do, took them on and it paid off after showing some good quick feet to score Thanet's fifth try with Panteli fully back in the zone, converted.
Thanet were unlucky not to have a few more from some great kicking from Panteli that Ball nearly profited from. When on the 25th minute the same combination it had paid off as Ball collected and ran home the try utilising his blistering pace and Panteli converted.
The final 10 minutes were a little scrappy. Thanet not taking advantage of the possession and giving away too many penalties but managed to hold firm and shut the door up and did not concede any more.
The final score ending 44-19 to Thanet. A bruising encounter that claimed a few victims, and our best wishes go out to the Medway winger, we wish him a speedy recovery.
Another good performance from the squad. Across the team today there was a lot of excellent performances with Isaac Divine, Fred O'Halloran and Sam Stevenson all standing out. But the teams award for the day and Medway award meant it was shared by Gil Smith and Hugo Evans, both having big performances driving the team on and contributing all over the field.
Next week, the squad is away to another excellent side in Bromley.