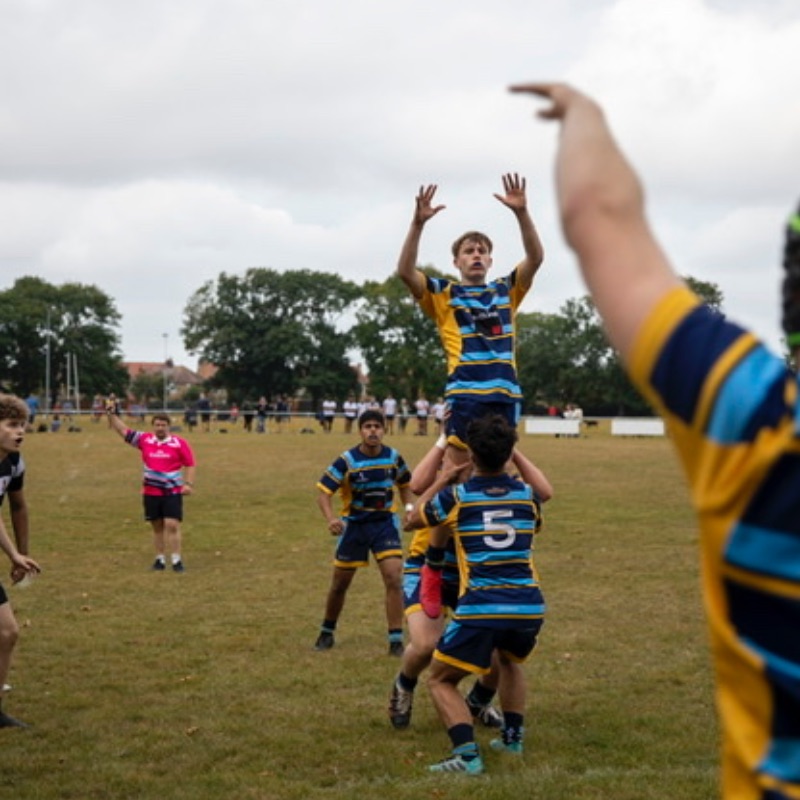 Match Report & Information
Thanet Wanderers Under 16s Vs Gravesend
This Sunday the Under 16s entertained Gravesend at St Peter's Rec. With the fuel shortages causing havoc we were grateful to Gravesend for still travelling down to us. Gravesend bought a group of their Under 17s to make up their numbers which had been agreed with the coaches.
Another warm September morning after a little rain greeted us, with all the squad doing a training session first followed by the game. The lads were keen to use the new first team changing rooms which look magnificent.
Thanet had a squad of 20 for the game, and virtually 20 more of the squad stayed and watched their team mates. We also had a decent crowd of parents, friends, and people from both clubs and they were treated to a good physical game of rugby that was contested right to the final whistle.
The game kicked off and immediately it was apparent this was going to be a tough contest between both teams, the additional Under 17s giving Thanet a physical problem to overcome. Max Anderson was captaining the side and leading the way from the front row. Shaheer Khan and Vinnie Anderson made early important tackles.
After good work from Isaac Divine, Fred O'Halloran and Sam Stevenson the ball was won back and we applied pressure to their try line. Good work by Alfie Pearce and Henry Carruthers ended with the ball finding Charlie Panteli and a great early pass out wide found Stanley Ball who went over, 2 minutes into the game to give us the lead.
The game went back to the expected physical encounter. Tom O'Callaghan at full back seeing a lot of the ball and looking calm in possession, Hugo Evan, Finn Hickmott and Gil Smith putting some big hits in, that were reciprocated by Gravesend too.
Both teams were giving a lot of penalties away, making the game a little stop start. Around half way through the first, we were awarded a decision which Panteli kicked to put us 8-0 up.
Gravesend were not out of the game and in the 17th Minute their rapid winger picked the ball up around the half way and showed great speed to avoid the tackle attempts and score in the corner.
Thanet made their first change of the day bringing on Owen Read for Pearce. Oscar Andrew out on the wing had shown some good link play, but had not seen enough of the ball. Thanet were awarded another penalty and Panteli slotted the three points.
Gravesend continued to put pressure on our try line and after some good defence they crashed over and converted the try, giving them a 12-11 lead. With half time looming, Thanet attacked hard with big carries from Smith, Divine, Evans and Carruthers. We broke free with O'Callaghan making a great run from deep, but probably went the wrong way cutting in rather than passing wide, but moments later he received the ball and showed great determination to score. Panteli converted from out wide to leave us 18–12 up.
Half time came and Thanet had themselves just in front. The boys looked fresh and took on board the pointers we wanted worked on. We made some further changes to the team, this did not change the game plan and the team were ready to give total effort and desire again.
The second half kicked off with Zack Ralph and Ollie Burch coming on. Having such a talented squad to choose from makes bringing players on so much easier to manage. Both teams went straight back to testing each other without making any clear openings.
Soon after we introduced our last replacements with Harvey Stocker and Linus Honey coming on. Panteli converted another kick to extend the lead to 21-12. Thanet applied great pressure to their try line, and eventually Divine crashed over only for it to be called held up. Gravesend continued to use their powerful game and were rewarded in the 17th minute of the half with a try which was converted, bringing the score to a tight 21-19.
Thanet applied pressure again, showing great fitness to keep going and were rewarded with another penalty which Panteli kept a cool head to score. At the final whistle Gravesend applied pressure to our try line but the Under 16s held firm and eventually were awarded a penalty which Fittingly Panteli kicked into touch to finish the game.
The final score being Thanet Wanderers 24 Gravesend 19. A good game to watch as both sides were always in it and showed total commitment to the end. Thanet edged it, albeit they know they can play better it is always nice to be on the right side of the result.
Today again we were lucky to have Harry Price officiating the game. This was a difficult game for various reason to call all the decisions but he did a great job and is well respected by the players.
Next week the Under 16s are at home and plan to play a inter squad game, followed by away games at Medway and Bromley.