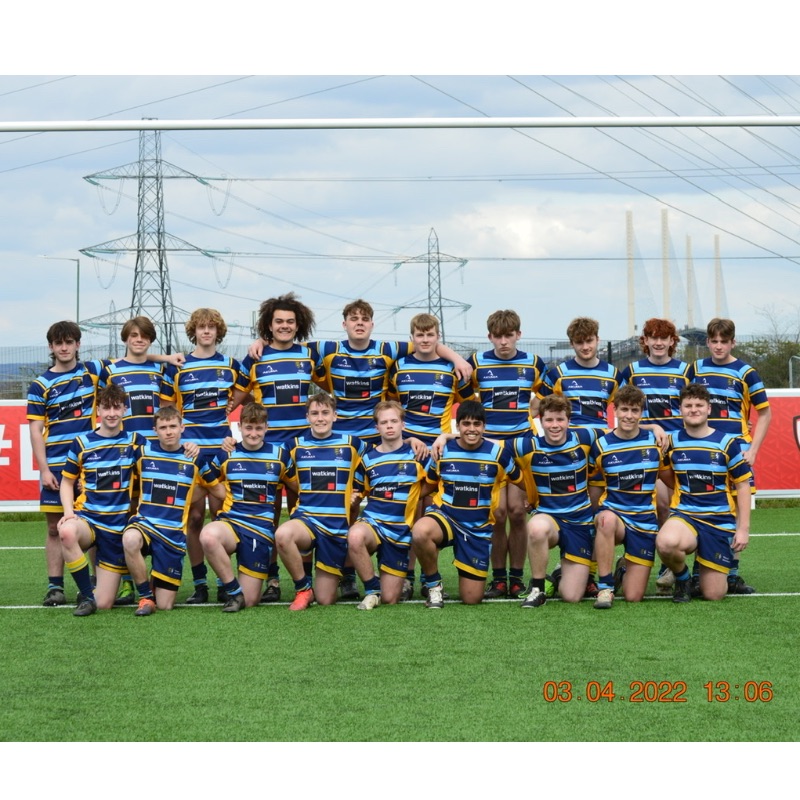 Match Report & Information
Thanet Wanderers Gold Under 16 44 V Beccehamians 14.
Sunday 2nd April 2022.
The sixth round of the Kent cup, and our Thanet Wanderers Under 16s Gold side travelled up to Beccehamians and Dartford Valley to play their next game in the Development side of the cup. Our Blue side had a bye in this round.
Thanet had some absentees and injuries especially with it coming in the Easter holidays but still managed to have a squad With 19 players. The weather was sunny and clear but was quite chilly at the lovely Dartford Valley ground that we played at.
The game kicked off following Captain Zach Ralph giving his team talk to the squad. Thanet were immediately trying to assert themselves, with Owen Read, Linus Honey and Hugo Evans all having great forward runs. Honey then picked up an early injury and Lewis Vandervord came on in the Centre.
Seven minutes in and after a good drive from Joseph Near and then Zach Ralph, Alfie Reeves got the ball and made a fantastic burst forward heading for the line but made the right choice to pass off to Stanley Ball who ran in the first try. Beccahamians were strong in the scrum but our front three of Shaheer Khan, Fred O'Halloran and Dominick Springer were consistently good all game.
A few minutes later and after good work from Oscar Andrews at full back, Evans made a strong run and again made the right decision to pass off to the supporting Finn Hickmott, for him to score, 10-0.
Near then had to come off, with Archie Kujawinski coming on. Josh McCulley made some important tackles, that led on to Vandervord picking the ball up and making a great run and timing his pass to Reeves, who still had a lot to do but sprinted home and gave Read the opportunity to convert it , which he did but then had to come off injured with John Bray taking the field.
With a couple of minutes of the half left Wanderers stole the ball back and after a good drive Ralph crashed over to put Thanet 22-0 up. Both wingers, Ewan Maclean and Stanley Ball had seen some of the ball, but good defence had kept them from making their usual big runs.
The last play of the half saw Beccahamians making a good break forward, initially Hickmott made a great tackle but when they popped and went quickly a few missed tackles left Bray to come from nowhere to stop the odd's on score but was unlucky to be pulled up for a high tackle and from the penalty, they crashed over and the conversion was the last kick of the half.
As the half time whistle sounded the score was 22-7 to Thanet. We made our last change and Alex Baker came on for McCulley. Thanet were asked for more of the same and to not get complacent.
Into the second half Thanet had all their replacements on and made a few tactical changes too. Harvey Stocker went back to full back and showed some great cover play.
With only minutes into the half, Kujawinski made a great break forward and it was taken on by Evans to score our fifth try. We then had two learning moments, when players have both made great runs and got into the try area and should have gone down immediately but probably tried to run it in under the post for one to be penalised and the other held up.
Reeves was then injured and fortunately Near was OK to come back on at 8. With six minutes passed, O'Halloran scored a very powerful try to put Thanet 32-7 up. Beccahamians were still pushing and after a great tim from one of their players which they scored and it was converted to bring it back to 32-14.
Almost immediately after their try Thanet pushed hard with some very physical play that found its way to Ball, who scored to extend the lead. With further positional changes and players coming on and off Thanet played some nice rugby, notably Ball going to Scrum half and he really took to the change.
With nine minutes to go a great run from Andrews from deep, and off load to Reeves saw us push the lead further with Ralph drop kicking the final points.
The final score today was Thanet Wanderers Gold 44 - Beccehamians 14. A really good game of rugby from both sides played in the true spirit of the game. Thanet ran out big winners but in truth Beccahamians never gave up and kept at it to the end.
Today the whole squad played very well and there was a number of strong candidates for the 'Please Sir' Man of the match but it went to Lewis Vandervord. Lewis not only played very well but carried the ball for big gains and tackled everything in front of him.
The gold squad will next play Sevenoaks Gold at home and the Blue team will travel to Dartfordians.
Thanet Wanderers Gold Under 16s:
Fred O'Halloran, Stanley Ball, Hugo Evans, Archie Kujawinski, Dominick Springer, Joseph Near, Alex Baker, Harvey Stocker, Owen READ, Ewan Maclean, Shaheer Khan, Linus Honey, Finley Hickmott, Alfie Reeves, Josh MCCULLEY, Lewis Vandervord,Zach Ralph, John Bray, Oscar Andrews.