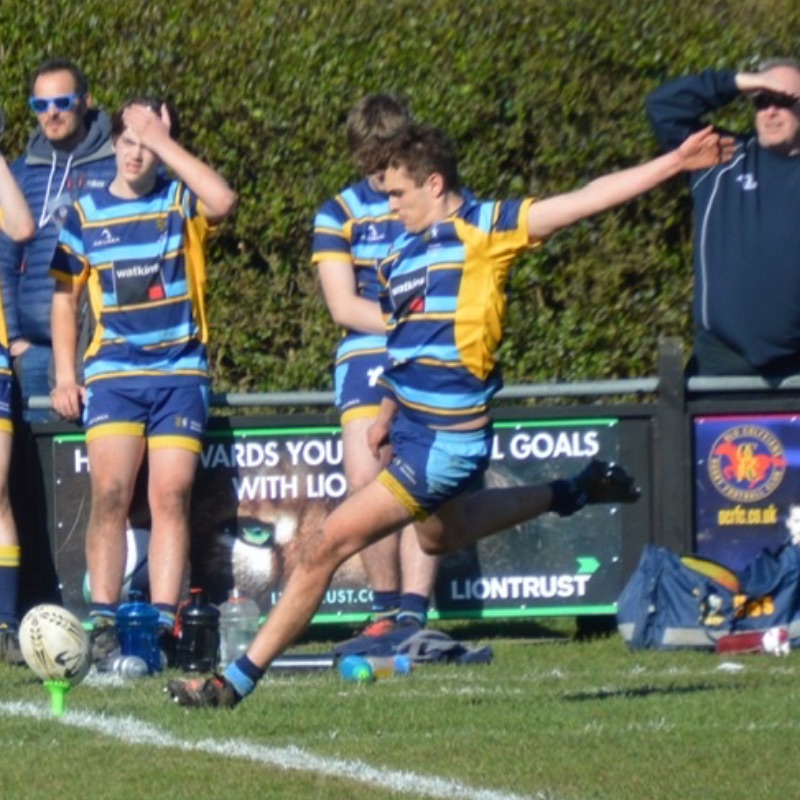 Match Report & Information
Thanet Wanderers Gold Under 16 V Old Colfeians.
Sunday 27th February 2022.
The fourth round of the Kent cup, and our Thanet Wanderers Under 16s Gold side travelled up to Old Colfeians to play their next game in the Development side of the cup. Colfs only putting one side into the tournament, with Thanet splitting theirs across two teams.
Thanet had some absentees and injuries but still managed to have a squad With 21 players. The Old Colfs pitches looked great and although chilly it was a sunny bright morning and perfect for rugby.
The game kicked off and Thanet did not get off to the start they wanted as with just after the first minute they found themselves 5-0 down after some pressure and a good wide pass to their winger for him to score. Thanet did then grow back into the game with Alfie Reeves, Ollie Burch, Reece Davies and Charlie Panteli all having probing runs, that were stopped by their defence.
Massive credit to our scrum again today, with Ben Couldridge, Davies, Dom Springer, Joseph near and Jack Brewer all being pivotal in making it dominate again. Thanet pick up a few injuries during the game that saw John Bray, Reeves, Burch, Couldridge all pick up injured, purely from all being so committed. Alex Baker and Josh McCulley both put in some great tackles and continue to show improvement.
Thanet enjoyed a lot of possession without getting the clear chances they probably would have liked. I'm the line out Finn Hickmott did well, winning the ball against the throw on several occasions. Our Captain for the day, Zach Ralph and our scrum half was trying to push us forward with some good distribution. Harvey Stocker again looked comfortable at full back, and switched later to scrum half too.
In the 22nd minute Our number 10, Charlie Panteli tried to kick from quite a distance, and just came up short, albeit it was a great attempt. Isaac Divine and Sam Stevenson in the centre were very influential on the game, big runs, tackles and linking play.
Just prior to the half time whistle, Colfs were awarded a penalty and their talented 15 took the kick to take the extra 3 points.
As the half time whistle sounded the score was 8-0 to Colfs. On the balance of play, probably deserved but Thanet were not out of it and had their own chances.
Into the second half and Lewis Vandervord, Owen Read, Brandon Davies and Kai Clarricoats were also introduced. It started well for Thanet with some great pressure on the Colfs line, which they just could not get home. Then on the 5 minute, from a line out, quick passing and a great line break from distance saw Colfs run in their second to lead by 13.
Thanet kicked back into life and showed great character with wave after wave of attacks, on the 17th minute, a huge break and run from Couldridge saw him crash over and Panteli convert it.
This dominance continued with massive pressure on the Colfs line and after a great break by Burch, Stevenson finished in the corner to put Thanet behind by one.
Thanet still had further chances with Read, Vandervord, Stevenson and Burch making some great breaks that Wanderers perhaps did not capitalise on as they could have done.
Credit to Colfs, as in the last 7 or 8 minutes, they reintroduced their 15 and first after a big maul in the corner he went over and converted his own try. He saved the best for last when deep in his own half, chipped over the Thanet line and sprinted on to collect the ball and ran in to score again.
The final score today was Thanet Wanderers Gold 12- Old Colfs 25. Although the score line suggested differently, Thanet were always in the game and could have gone either way at points, but credit to our opposition as they scored some great individual try's.
Today the 'Please Sir' Man of the match went to Ben Couldridge. Ben put in a great powerful display throughout the game, making some huge territory gaining runs and big tackles and finished the game with a black eye too. Well done Ben.
The squad now looks to the Blue team, hoping to actually play a game and are at home to Dover next week.
Thanet Wanderers Gold Under 16s:
Ben Couldridge, Reece Davies, Dominick Springer, Joseph Near, Alex Baker, Jack BREWER, Harvey Stocker, Owen READ, Ewan Maclean, Finn HICKMOTT, Ollie Burch, Issac Divine, Sam Stevenson,Alfie Reeves, Josh MCCULLEY, Lewis Vandervord, Kai Clarricoats, Brandon Davies, Charlie Panteli, Zach Ralph, John Bray.