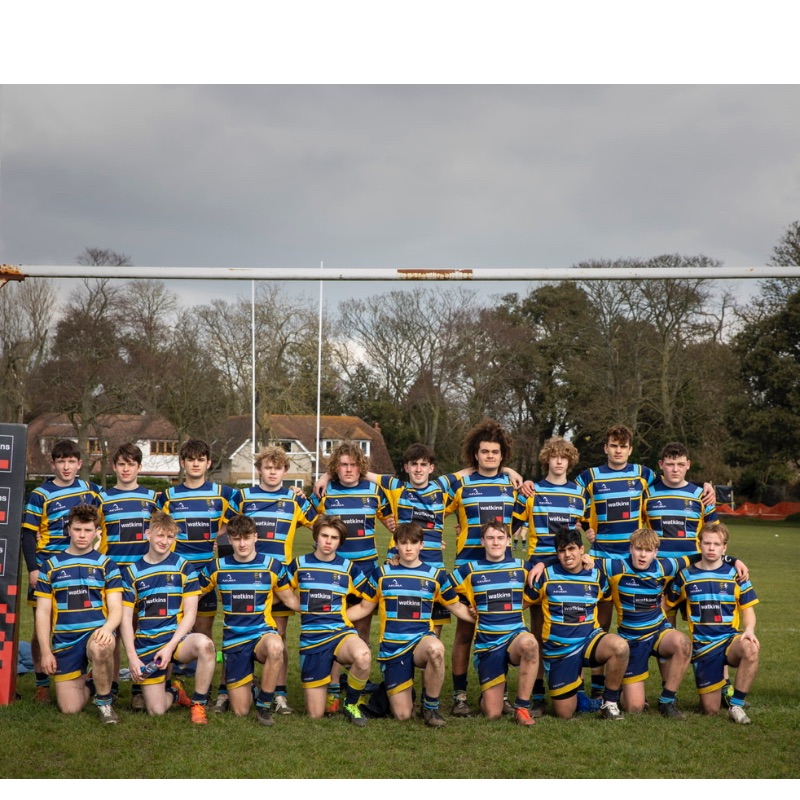 Match Report & Information
Thanet Wanderers Under 16 Blue Vs Dover
Sunday 6th March 2022.
At long last Thanet Wanderers Under 16s blue team had another game in the Kent cup after teams kept pulling out in them. A home game too, with a great crowd in the cold conditions.
Thanet had a squad of 19 for the game. Owen Read and Ben Couldridge coming into the squad after Bens man of the match performance last week. Thanet were missing a few, away playing with the Saracens Kent PDG.
As soon as we kicked off it was apparent today was going to be a physical encounter. Both sides went at each other with most of the play taking place in the centre of the pitch. Thanet did start well with both wingers Oscar Andrews and Stanley Ball both getting early touches wide, but were unable to capitalise.
Thanet pushed hard, with Captain Gil Smith, Isaac Divine and Henry Carruthers all making good gains. Four minutes into the game and after further good work from Fred O'Halloran and Sam Stevenson, a penalty was awarded by referee Ian Lodge. It was decide to kick and Charlie Panteli did not falter to put Wanderers ahead.
Dover came back into the game, showing that their pack had great power and was the best we had faced all season. Dover pushed hard on the Thanet try line with great defence shown, Ben Couldridge, Toby Hunt, Archie Kugawinski and Alfie Pearce all putting their bodies on the line to hold strong.
What followed was a lot of play where at the line out Finn HICKMOTT did well, and At full back Tom O'Callaghan had a lot of the ball as their was a kicking to and fro taking place. Thanet did put pressure back on the Dover line, only for Hugo Evans to be held up after he thought he had scored.
Soon after, Dover gave away a penalty and Panteli again put it over. Thanet had slightly the better play to finish the half and with six minutes to go after a great drive forward by Stevenson, the ball was taken on again by Evans and this time he had his try, which Panteli converted.
Half time and the score was 13-0 to Wanderers. Not vintage but they were grounding out the game and shading it at this stage.
The second half started with Dover coming out with renewed belief and eager to turn the scoreboard around. Ollie Jordan Smith now on at 10 showed some great kicking. Thanet had also bought on Shaheer Khan, Ollie Burch and Owen Read.
Thanet lost a little discipline as they racked up the penalty count against them. After warnings, for persistent off side, Evans was given a yellow. And this was later followed by O'Callaghan too.
Thanet playing with a player down, were up against it with Dover full of confidence and looking strong. With six minutes to go they scored to reduce the lead to eight.
In the final few minutes, after a great drive, Dover scored again and converted to bring Thanets lead to one. Dover never stopped and into stoppage time were pushing hard for the win, when Stevenson made the brave choice to compete for the ball at the break down, after Wanderers had given so many penalties away previously ,but he and Thanet were given the ball which they kicked into touch, with a big sigh of relief.
The final score being a tight 13-12 win for Thanet Blue. Making it four wins from four on paper, but knowing that they can play a lot better and will need to do so.
Today's 'Please Sir' man of the match was Sam Stevenson. Sam right from the off showed total commitment, made countless tackles, passed the ball well and is recognised for his performance today.
Thanet Wanderers Blue Under 16s are next up against Old Alleynians, who are also unbeaten, at home and the gold team have a bye in the next round.
Thanet Wanderers Blue 13 Dover 12.
Thanet Blue:
Ben Couldridge,Fred O'HALLORAN, Shaheer KHAN, Hugo Evans, Owen Read,Finn HICKMOTT, Isaac DIVINE, Gil SMITH, Sam STEVENSON, Charlie PANTELI, Stan Ball, Henry CARRUTHERS, Toby HUNT, Oscar ANDREWS, Tom O'Callaghan, Ollie Jordan Smith, Alfie PEARCE, Archie Kujawjnski.