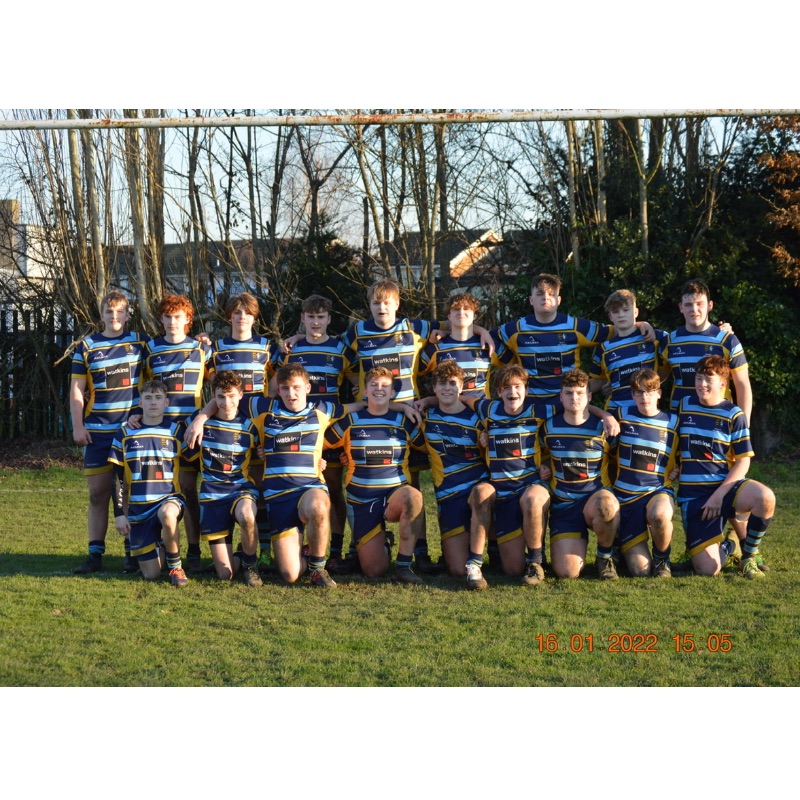 Match Report & Information
Thanet Gold
Thanet Wanderers Gold Under 16s travelled to Sittingbourne for their first game of the Kent cup this year. The fixture should have been a home one, but with the coaches being at Aylesford in the morning, all three wanted to be with the gold team so we reversed the fixture so we could do both in the same day.
The team took some casualties prior to kick off but were still able to field a strong 18 players. This being the first year we have been able to have two separate squads from our now large 40 plus overall squad. The afternoon bought some sunshine and great rugby weather.
The game kicked off and immediately Thanet looked threatening. Alfie Reeves, Kai Clarricoats and Linus Honey having some great runs, stopped by last ditch tackling. The scum looked awesome, the front three in Ben Couldridge, Reece Davies and Dominick Springer were so strong and controlled, we did not loose a scrum at all and gained possession on many of them.
Ewan Maclean and Josh McCulley our flankers were seeing plenty of the ball. We had quite a few chances deep into the Sittingbourne half with Jack Brewer and Joseph Near making great probing drives. We were held up a few times when we should have gone a pass more but, we will learn from that.
Fourteen minutes into the game and after great pressure again we managed to put the ball through our hands. Quick passing and thinking from Theo Rowe released Owen Read, who always finds a way, and this time was no different. He crashed over for our first try.
We were managing to get the ball wide and Brandon Davies grew in confidence, and showed his improvement. With 10 minutes to go in the half and after a disallowed try Thanet pressed hard again which was followed in by full back Harvey Stocker, who scored to put us 10 points up.
Half time Thanet bought on three replacements with Mason Waters, Tyler Day and John Bray. All three making their Kent cup debuts. The score being Thanet 10- Sittingbourne 0.
The second half got underway and Thanet went hard at the opposition. Straight away Day took a ball out of the air with confidence, and Bray made some good ball carrying runs. With 11 minutes gone, Thanet had just missed out on a couple of opportunities but made up for it when Read, made sure he got to the line for his second. Rowe followed this up by converting the try.
A few minutes later, Sittingbourne were awarded a penalty. This was fairly far out but was brilliant kicked by their 10.
Into the last part of the game, and Thanet were constantly trying to break through. Maclean, Stocker, Honey and Clarricoats all trying without success. But with the end of the game in sight, Read made a great tackle and collected the ball and it was fed through to Ralph who scored our fourth try, which Rowe converted.
The final score 24-3 to Thanet. An excellent performance from all the boys today, with a win to start the group off and giving us four try's.
This second game of the day was equally as difficult to single lads out with their performance. But the one person that stood out for us coaches was Ewan, having his first start at back row and doing a great job. The Sittingbourne coaches also highlighted Ewan as today as Man of the match. So well played Ewan you are today's MOTM at Sittingbourne.
With the afternoons result at Sittingbourne it made it two wins out of two today for our squad. Even with injuries and absentees we managed to field two sides and get 37 lads playing with everyone getting at least a half of rugby, and that shines through as the real winner getting more lads playing and enjoying the game.
Next up for Thanet Wanderers Gold is Beckenham. This will be a tough match with but one this squad will rise to the challenge again I'm sure.
Thanet Gold:
Ben Couldridge, Reece Davies, Dominick Springer, Mason Waters, Joseph Near, Josh McCulley, Jack BREWER, Alfie Reeves, Harvey STOCKER, Theo ROWE, Kai Clarricoats, Linus Honey, Owen READ, Ewan Maclean, Tyler Day, John Bray, Brandon Davies, Zach Ralph.