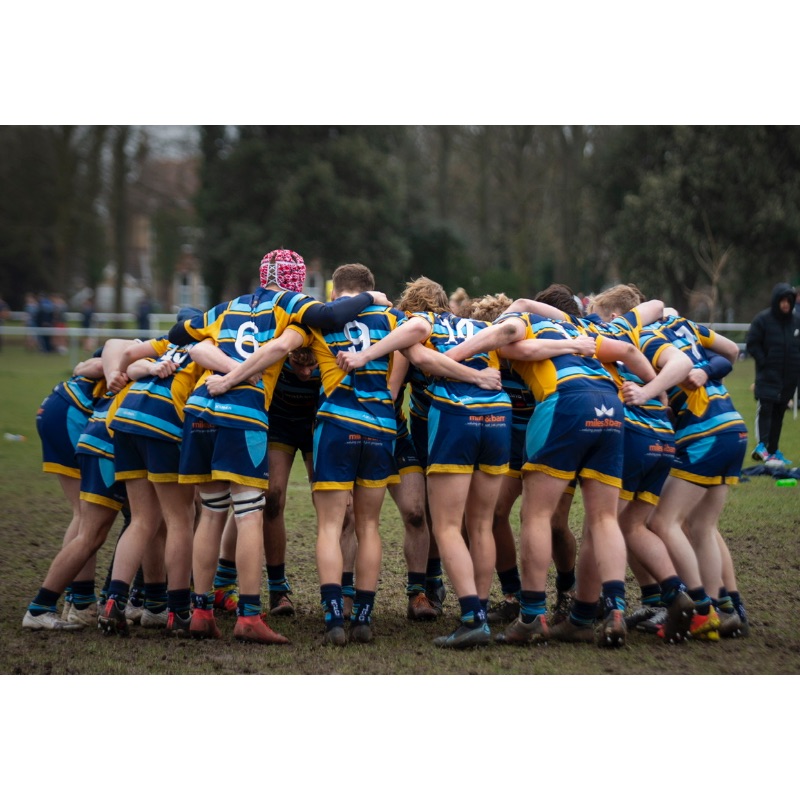 Match Report & Information
Thanet Wanderers Under 16 14 Vs Aylesford 12.
Sunday 20th February 2022.
After a few weeks of not being able to get a game the Thanet Wanderers Under 16s blue team, managed to get an outing against Aylesford for whom they had recently played in the first round of Kent cup games.
Aylesford Bulls are always a tough opponent and exactly what the Blue team needed. Aylesford made the trip down to St Peter's Rec, thankfully Storm Eunice had passed and although had left a trail of Chaos in its path, which the club was hit with too, the game still went ahead.
Thanet had a squad of 19 for the game. Ewan Maclean coming into the squad after scoring some stunning try's recently and a string of man of the match performances.
As soon as the game kicked off, it was clear the still windy weather was going to play its part. Aylesford are a big side and were strong in the scum from the off. Thanet have this season prided themselves on how strong in the scrum they have been with Captain Max Anderson, Fred O'Halloran and Toby Hunt our front row for today and they continued to impress.
A few minutes in and Wanderers picked up an injury with Archie Kugawinski hurting his knee, Vinnie Perkins coming on to replace Archie. Both centres Henry Carruthers and Alfie Pearce were making probing runs and cover tackles all over the pitch.
Five minutes in to the game and Thanet took a good decision to kick a penalty. Charlie Panteli stepped up and although the wind was blowing hard, he put it straight over to put Thanet 3-0 up. A lot of the play was going through the centre of the pitch, meaning our wingers Oscar Andrews and Stanley Ball were only seeing glimpses of the ball.
Thanet worked hard with Hugo Evans, Isaac Divine, Finley Hickmott and Gil Smith all clocking up big tackle counts and working hard in the engine room of the team.
Some big forward carries by captain Anderson and Carruthers gained Thanet yards up the pitch, but Aylesford used the wind to their advantage and their 10 expertly put the ball on the corner for a line out to them. Alyesford had greatly improved their scrum and maul from a few weeks ago and from the line out drove over to score to give them a two point lead.
This spurred Wanderers on and After great work by scum-half Sam Stevenson to win the ball back, Thanet were awarded a penalty and again chose to kick. Panteli not phased by the wind and again slotted the ball over.
Half time and the score was 6-5 to Thanet. A narrow lead in a difficult half playing against the wind. The three remaining replacements, Ollie Jordan Smith, Ewan Maclean and Shaheer Khan were introduced.
The second half started, now with the wind, Thanet used their kicking game to push up field. Jordan Smith and full back Tom O'Callaghan doing well from the boot.
Thanet had more possession in this half but did not really capitalise on it, and gave far too many penalties away. Most impressive was their tackling with Winger Maclean putting in a big hit and in the middle Khan, Perkins and Hickmott making huge tackles on much bigger lads.
In the 27th minute, Thanet had been pressing strongly for a while and nearly had a try in the corner but for a slightly forced pass, but made up for this when Jordan Smith made a great collision avoiding run and at last we showed quick hand to release Anderson in the corner for him to score and put Thanet up 11-5.
The last five minutes bought some fireworks to the game. First after a great forceful drive by Aylesford and then quick passing, they crashed over to score. In the aftermath, a Aylesford player was given a yellow for striking a Thanet player. The conversion was taken, and although if the TMO had been reviewed, the kick would not have been given, Aylesford now led by one point with just three minutes remaining.
Thanet pushed hard, with another strong drive by Hunt, O'Halloran and Divine and in the resulting ruck, Thanet were awarded a penalty. At this point, Thanet had their tails up and seemed to have got their passing back, but with so little time left they chose to kick. This was a real pressure kick as it would take Thanet two clear with so little time left but more so, as the wind was so forcibly blowing in the direction of the posts, the slightest misjudgment and it would have flown wide. We should not have worried as a cool as a cucumber Jordan Smith had the ball sailing though the middle of the posts to put Wanderers up by two.
Our hearts were in our mouths when Thanet were comfortably in possession and time had been called, only to have a miss placed kick go to one of the Aylesfords players. From the resulting ruck, an Aylesford player was penalised and Thanet took possession and this time, kicked into touch.
The final score being 14-12 to Thanet. A tense game that both sides gave everything from the start to the end. Tough conditions to play in and the Champagne rugby may have to wait for another day, but they all did themselves proud and never gave in and came away with another win.
Today's man of the match was tough as we had lots of strong performances but the 'Please Sir' man of the match went to Toby Hunt. A great game throughout, big tackles and a few position changes but continued to perform at a high level, well done Toby. Toby received the trophy and a free burger, as sponsored by Steve Lawrence who runs the magnificent Please Sir in Broadstairs, Steve also came to watch the game today.
Thanet Wanderers Blue Under 16s are next up against Dover at home and the gold team are away at Old Colfeians.
Thanet Wanderers Blue 14 Aylesford Bulls 12
Thanet Blue:
Max ANDERSON,Fred O'HALLORAN, Shaheer KHAN, Hugo Evans, Vinnie PERKINS, Finn HICKMOTT, Isaac DIVINE, Gil SMITH, Sam STEVENSON, Charlie PANTELI, Stan Ball, Henry CARRUTHERS, Toby HUNT, Oscar ANDREWS, Tom O'Callaghan, Ollie Jordan Smith, Alfie PEARCE, Ewan MACLEAN, Archie Kujawjnski.