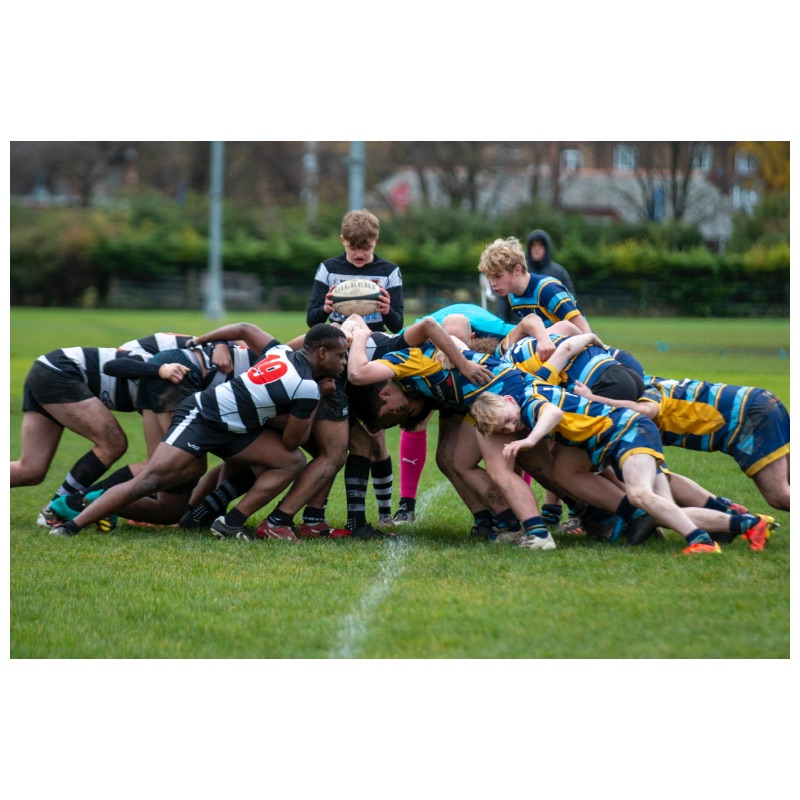 Match Report & Information
Gravesend Under 16s Vs Thanet Wanderers.
Sunday 5th December 2021.
This Sunday we travelled to Gravesend for our last fixture on 2021 and last before Christmas. Travelling up the M2 it looked like the end of the world was coming with dark sky's and torrential rain but thankfully it got much better once at Gravesend HQ.
Thanet had gone with a squad of 20 for the game to match the similar amount of their opposition. The previous game had been a narrow win for Thanet.
The game kicked off and both teams looked pumped up for the fixture. Thanet were again captained by Isaac Divine.
Thanet had a changed front row today with Toby Hunt, Fred O'Halloran and Shaheer Khan. In the first few minutes both teams tested each other with Archie Kugawinski, Tom O'Callaghan and Hugo Evans all having big ball carrying runs.
In the 6th minute Thanet pressed the Gravesend defence, Vinnie Perkins and Sam Stevenson carrying the ball deep into their half. The ball went into their far right corner and after great pressure from Gil Smith, Isaac Divine received the ball and had a lot to do but with lots of determination forced the score, and to give Thanet the lead. Ollie Jordan Smith was unlucky with the conversion.
We then had a period of Gravesend kicking for territory and Thanet trying to make it back again. Both wingers Ollie Burch and Stan Ball were called upon with more of their defensive skills than their free running ones.
In the 21st minute, Gravesend pinned Thanet back to their try line. With a Gravesend scrum, Thanet were pumped to win possession back. Thanet showed exceptional power, with the front row pushing hard, backed by the other five. Thanet seemingly won each time but were reset and after, so many that I lost count Gravesend eventually played the ball wide and with good quick hands scored in the corner.
Half time and the score was five all and not much between the sides. Thanet bought on all their replacements with Alfie Reeves, Charlie Panteli, Zach Ralph, Jack Brewer and Owen Read taking the field.
The second half kicked off and Thanet pushed hard for territory. Finn Hickmott and Henry Carruthers making great gains. Gravesend pushed deep into our half and after some pressure they were awarded a penalty in front of the posts, which they scored to put them three points up.
The game became a little scrappy with both teams not really taking a grip. Owen Read and Zach Ralph making good ground. After a deep kick they pushed Thanet back to their line. We retained possession from a line out and passed back for the ball to be cleared, but it was charged down and in the lottery of where it would fall, a Gravesend player was most alive to it and touched it down to extend their lead.
Thanet did come back into the game in the last ten minutes. They were unlucky when Alfie Reeves powered through to score, only to be pulled up for binding on to him just prior to him scoring.
Thanet then were awarded a penalty in front of the posts and should have taken the kick , but tapped and went quickly, which did not pay off on this occasion.
In the last two minutes, Thanet pushed Gravesend hard and applied a lot of pressure which did pay off, when Evans went over to score and Panteli converted to reduce the lead to one point. Unfortunately after the reset Thanet ran out of time.
The final score was Gravesend 13- Thanet 12. A tight game where Thanet did not play their fluid best.In defeat the lads will have learnt they needed to adapt to being pulled up by the referee for various offences, and congratulations to Gravesend for the win.
This concludes the first half of the Seasons fixtures. A very good first half with some great wins and lots of rugby played by our large squad. We look forward to the second half of the season where the Kent cup will start with the first games coming in January.
Squad: Toby Hunt, Fred O'Halloran, Shaheer Khan, Archie Kugawinski, Vinnie Perkins, Finn Hickmott, Isaac Divine, Hugo Evans, Tom O'Callaghan, Ollie Jordan Smith, Stan Ball, Henry Carruthers, Gil Smith, Ollie Burch, Sam Stevenson, Charlie Panteli, Zach Ralph,
Owen Read, Jack Brewer, Alfie Reeves.