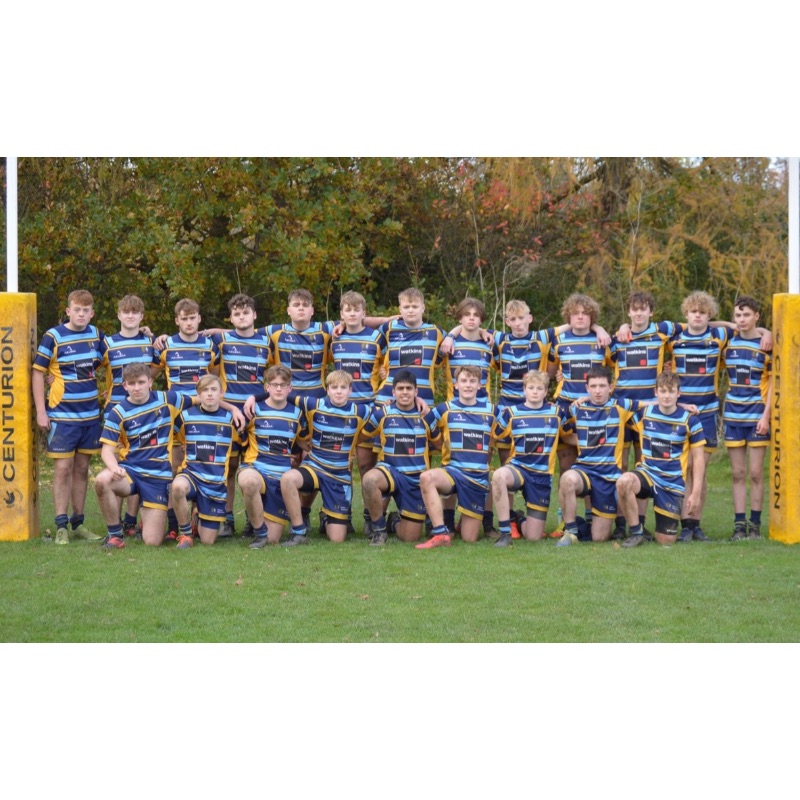 Match Report & Information
Sittingbourne Under 16s Vs Thanet Wanderers Under 16s.
Sunday 21st November 2021.
This Sunday Thanet Wanderers Under 16s travelled to Sittingbourne. It was a crisp cold morning, but the weather was perfect for a mornings rugby. We took a squad of 23 players, particularly looking to give game time to our newer players.
Once assembled, we made the trek up through the forrest to the pitches and found them to be in great condition.
Sittingbourne had a few injuries and Covid cases and were down to 12 players. With all the lads still keen to play, we gave them three players for the first half and three different players for the second. Tyler Day, Kai Clarricoats and Harry Burley all helping out the opposition initially.
The game kicked off and Thanet looked strong from the off. With Isaac Divine once again captaining the side and doing a great job. With a very different squad from last weeks Canterbury game, we saw Joseph Near, Shaheer Khan and Dominick Springer start as our front row, all three showing that they have grown into the position, also making lots of important tackles and both Near and Springer both having their best games to date for Thanet.
We did not have to wait long for the first score. Good work from Will Durrant and the ball found it's way to Alfie Reeves. Reeves being a big power player but showed he also has a good turn of speed to get through their defensive line and sprint away to score the first points. Being quite close to the touch line, this left a difficult kick that Wilkinson/Farrell/Smith would have not been sure about but with great nonchalance Ollie Jordan Smith stepped up and slotted it over with plenty left on the kick.
Some good foot work was shown by our wingers Brandon Davies and Harvey Stocker when they got the chance, also both demonstrating their tackling skills throughout.
In the 8th minute Thanet were putting great pressure on the Sittingbourne line. Henry Carruthers, Divine, Alex Baker and Gil Smith all testing them out. Eventually after quick fire passing Mason Waters powered through into their try zone and only after what seemed an eternity splashed the ball down to score his maiden try, this was again expertly converted by Jordan Smith, 0-14.
Thanet dominated possession, Lewis Vandervord at full back again, showing great hands and bravery to take the ball when under pressure. Josh McCulley was having a good game again from his position today of flanker, getting to the ruck quickly, taking the ball on when needed and tackling well too.
The three lads, Day, Clarricoats and Burley were all doing themselves and us proud, even if they were helping the opposition. In the 20th minute, Thanet applied great pressure and although Sittingbourne seemed to be passing their way out of trouble, only for brilliant quick thinking from Smith in intercepting a pass and to run it straight in, Jordan Smith was unlucky hitting the post.
Wanderers were enjoying their rugby and creating chances and after a couple of thwarted attempts, great passing along the line freed Carruthers and he used his speed to get clear of the on coming defence and score his first, which Jordan Smith converted.
The last try of the half came after some great work by Near, Khan, Smith and Waters and the ball came to Springer. He still had lots to do but showed the determination we had asked of the boys to make the line and score a well deserved try, which Jordan Smith again converted, leaving the score at 0-33.
Half time and Thanet were in command with a big lead. We welcomed back the three lads that helped out the opposition in the first half so they could play the second half for Thanet and three new lads, Lewis Vandervord, Mason Waters and Josh McCulley all now helped out for Sittingbourne.
At the kick off, although we had changed personnel again the quality was still there. Owen Read was back on, after picking up an injury last week and he never disappoints. Showing an all action style and always backing himself he was unlucky on a few breaks. Linus Honey, on the wing now, collected the ball on two or three occasions and looked like he had pace to burn.
In the first few minutes of the half good play to win the ball back involving Burley, Day and Khan and Carruthers found himself in space and ran in to score. John Bray on for the second half, made some good tackles and gained further match experience.
A great passage of play from Thanet involving Finley Hickmott,Divine, Khan and ending with Kai Clarricoats was unlucky to not end with a try. Only nine minutes into the half and a great run from Read, ended with Carruthers picking the ball, dancing past a couple to run in his hat-trick try which Jordan Smith again converted.
Thanet were continuing to put pressure on Sittingbourne and after Smith, Stocker and Divine advanced Wanderers up the field, the ball was initially lost only for Hickmott to win it back and quickly take the ball on himself. Stepping the advancing defender and then running in his try with a chasing opposition player, Jordan Smith converting his last action of the day, Having been very consistent and player very well.
As the game was racing towards the end, Thanet were desperate to create another chance. After Bray, Near and Springer pushed Wanderers further up the field and several attempts were made to get to the line, Reeves had the last say, powering over to score his scone try, which Durrant converted.
McCulley, Waters and Vandervord all played well for the opposition, Vandervord picking up a leg injury that left it bleeding demonstrating his huge commitment to the game in both halves.
The score at the final whistle was 59-0. An excellent outing for the side today, further experience gained by our newer lads and sone great sportsman ship shown by some of our lads in playing for the opposition to make the game happen.
Thanet now have a training weekend followed by a return trip to Gravesend at the start of December.
Squad:
Shaheer Khan,Dom Springer,Mason Waters,Tyler Day, Joseph Near, John Bray, Alex Baker, Josh McCulley, Linus Honey, Alfie Reeves, Gil Smith, Will Durrant, Ollie Jordan Smith, Harvey Stocker, Harry Burley, Issac Divine, Finn Hickmott, Owen Read, Henry Carruthers, Brandon Davies,Kai Clarricoats, Lewis Vandervord.