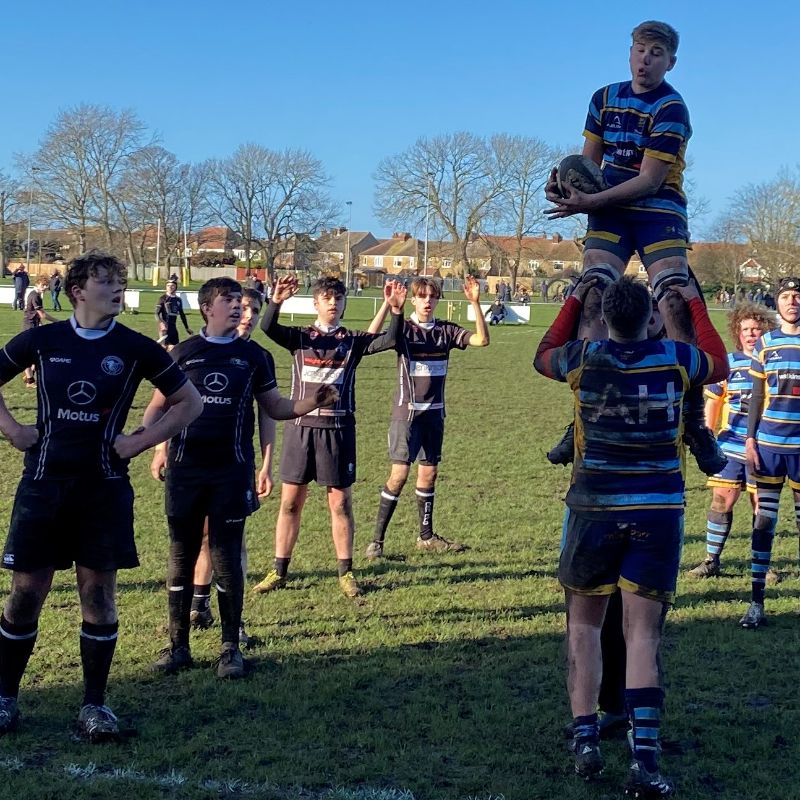 Match Report & Information
Match report.
2022-01-09 THANET WANDERERS 31 vs DEAL AND BETTESHANGER 28
It was with great pleasure we welcomed Deal to Thanet on a crisp clear cool but still unseasonably sunny winter's day at the Rec. Deal had focused on Thanet as the team in Kent to beat and had been working hard to improve and to give us a very competitive game. Thanet knew we would have to step up to the mark and put in the hard work against a traditionally large strong pack.
The coaches were particularly excited about the opportunity to play on the first team pitch and take advantage of the VEO technology to film the game. After a lot of rain the previous day the pitch was particularly heavy underfoot and looked like it had the potential to get quite churned up in parts. With a big pack this would probably play more into Deal's hands than ours.
Deal kicked off with Thanet receiving and playing up the pitch away from the clubhouse.
It was a nervous start from Thanet as inexplicably they tried to run their way out of their own 22. However, the ball was being recycled reasonably well but it was a relief when, after making little ground, Thanet took the right option of kicking the ball down into the Deal 22 (from where we could attack without the coaches having nervous breakdowns).
Deal weren't going to just rollover and they did make a number of turnovers as, frequently, Thanet players found themselves isolated and Deal were both tackling and finishing well.
They had big powerful runners coming from the base, but the Thanet tackling (especially Archie Hussey and Owen Long) was well up to the task in hand. Although Deal were making ground, it wasn't really moving beyond their half and it was fairly predictable. Thanet on the other hand were beginning to move the ball wider and gaining ground. It was after a sortie into the Deal 22 that, although Deal managed to claw back the ball on the resultant scrum and were under pressure, Jack burst through onto a pressured pass and got the interception. He passed to Dan Jury to run in under the posts which, once the right tee was brought on the pitch, Jack duly converted (7-0). Again, like previous games it seemed only a matter of time till Thanet would take full control. However, they squandered a number of golden opportunities as white line fever gripped certain players and a number of blatant overlaps were ignored much to the chagrin of the coaches and the impact players on the bench. Then a deliberate knock on clearly visible to the crowd (and VEO I can confirm) was missed by the ref and the resultant fly hack saw Deal bundle over the line to draw the score (7-7).
Thanet responded straight away as gathering the ball from the kickoff, it was deftly kicked far down the pitch just into the try zone. It looked certain it would go dead or Deal would be on it but, out of nowhere, Zachery Oliver-Hendy pounced to put Thanet back in front (14-7).
Again, Deal responded as they gained some ground through their forwards. A kick ahead bounced up off the post into the arms of the chaser who touched down unopposed (14-14). In this 'to and fro' game, another move saw the ball moved left and a big pass from Jem Harris to wing Eddie Ashley-Gordon in open space, saw him charging towards the line only to be brought down just short.
With the resultant lineout turned over and Thanet positioned in the opposition 22, another quick lineout saw Archie Hussey bulldoze his way to the line (19 -14). Just desserts for a solid pack who had been performing well both in the scrum and lineout.
With momentum being gained it was another interception from Jack Vas that saw him have a clear run to the line to score his second try (24-14). Deal themselves were finally starting to move the ball a bit more, rather than down the familiar forward channel and quick hands saw a dummy in the centre leaving Thanet exposed and Deal were back in the game (26-21).
The game really was anyone's now and Thanet knew they needed more tries. The backs' handling was far crisper than the opposition and with blatant gaps either side they realised Deal were exposed on the wings. Great dynamism from Dan Jury and a quick movement led the ball to the right wing for Finn Willems to score Thanet's final try (31-21). It was Deal who were to have the final word with another bulldozing try which was again converted (31-28) and led everyone on the touch line to panic as to who had won the game as the final whistle blew and the phone calculators came out. Thanet had done just enough to secure a hard-earned victory but all credit to Deal as it was desperately close and if not for a few missed opportunities could have easily gone the other way. Great to see Charlie Bailey although injured coming up to cheer his team mates on as he would have relished being in the forward battle.
Lots to work on especially around decision making (quick penalties by yourself) and players getting isolated due to lack of support, but a win is a win. Also, a nice video for the coaches and players to watch and analyse.
U15's Squad:
Lawry Clifford, Callum Duffy, Eddie Ashley-Gordon, Freddy Durrant, Oscar Ellis, Thomas Gough, Fin Harris, Jem Harris, Harry Hooper, Archie Hussey, Kyle Pitcher, Joseph Keohane-McGrath, Daniel Jury, Owen Long, Zachery Oliver-Hendy, Charlie Page, Ollie Parker, Ellis Rees-Plumridge, Dillon Shelley, Finley Stroud, Tristin Surry, Rasmus Wallace, Jack Vas, Eden Williams-Verrall.
Charlie Bailey (injured)