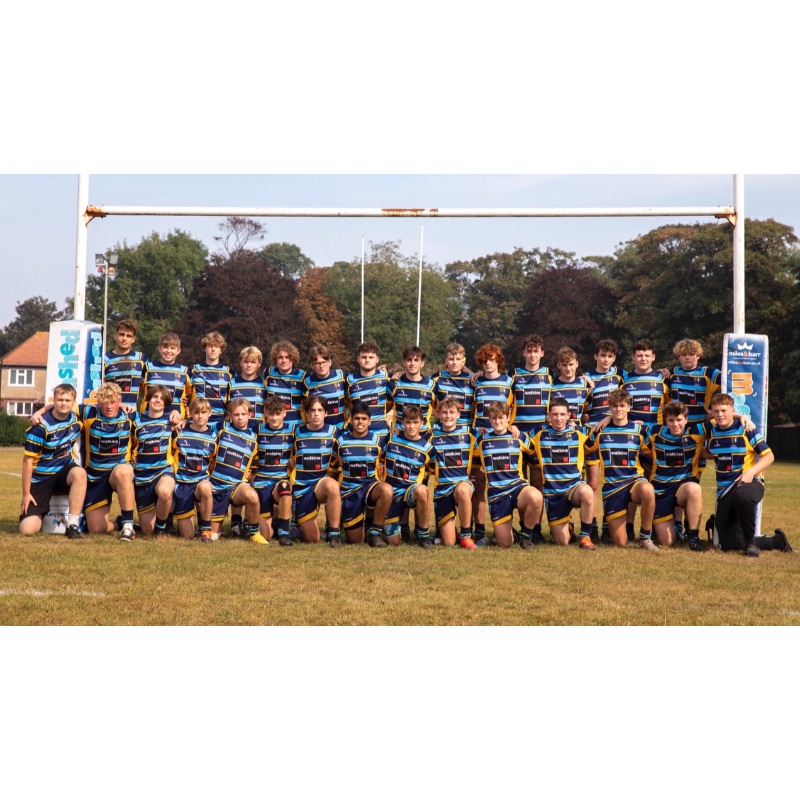 Match Report & Information
Thanet Wanderers Under 16s Vs Dover RFC
The under 16s were again at home for already their third fixture of the season, this time against Dover. Fixtures between the two sides are always competitive and enjoyable to watch and this one did not disappoint.
The ground was still baked hard and it was a hot sticky morning, but St Peter's Rec looked superb with the backdrop of lots of other Junior and Mini's teams training giving a good buzz about the place.
Thanet had a much changed squad again, going with a match day team of 22. Having lots of lads lads injured and others not involved as they are being used for other games or a few are gaining experience in training.
The game kicked off and both teams showed great commitment to try and establish themselves. Josh McCulley, starting his second ever game in the second row, and numerous others were looking to to gain valuable experience. Thanet started to gain an upper hand with Henry Carruthers and Alfie Pearce, both at centre working hard together to make valuable territorial gains.
Gil Smith, Max Anderson and Fred O'Halloran made some early big tackles and gained possession for the team. With all the possession that Thanet had, they were a little wasteful and gave away a few too many penalties, which stropped the good progress they were making.
Joseph Near, another of our lads needing experience was putting in a good performance in the front row. Charlie Panteli, again at 10 was dictating lots of the play, trying to get he team moving.
In the 8th minute, from a line out, Tom O'Callaghan stole the ball and drove forward with Sam Stevenson taking it on. Stevenson at this point had put himself in a good position but had lots to do, but sheer effort and determination got himself into the corner to score our first, this was followed up by Panteli skilfully kicking over from out wide to put us 7-0 up.
A few minutes later and Thanet found themselves on their own try line. They initially showed some great defence to keep Dover out, but Dover showed some excellent power and strength to get over and score with a great conversion to follow it and the scores were even.
Linus Honey was playing full back, a position he was not totally familiar with but he took to it well and was collecting the kicks and bravely taking the Dover defence on. Finn Hickmott and Hugo Evans, supported by Pearce were getting through a lot of the hard unglamorous work, which was invaluable to the team. Both Oscar Andrews and Ewan Maclean on the separate wings both showed glimpses of their speed and agility when able, but we perhaps did not get enough balls to them.
We then introduced Alex Baker and Shaheer Khan to the pitch. Thanet played well but again found themselves back on their try line in a virtual repeat of the first try and again Dover went over, despite some good defence. Dover being 12-7 up now.
A few minutes later, Thanet seemed to use the adversity to spark back into life and following some heavy pressure, were awarded a penalty in a central position and Panteli expertly kicked the 3 to put Thanet within 2 points.
Virtually from the kickoff and just prior to the half way point, the ball was kicked by Dover but it did not make touch as Thanet kept the ball in play. The ball found it's way to Carruthers who made a powerful weaving run and then choose to kick on and chase. This paid off as he got their first and headed for the line, Dover closed in on the tackle for Carruthers to make a great pass to O'Callaghan, who ran in under the posts, and Panteli followed up with the conversion.
Half time came and both sides knew they had been involved in a good game. Thanet just going in 17-12 up, but knowing they would have to work harder and play a little more through the hands to beat Dover who were never going to give up. Changes were made, and further changes also during the second half, again introducing some of our newer players to give them experience and all performed well.
The second half kicked off and Thanet although had lots of changes, maintained the performance but kicked up a gear with their fitness and drive and dominated. First 9 minutes into the half Smith powered over after good pressure from Thanet and Panteli converted.
Zach Ralph was now at 9, with Stevenson going to full back. Ralph was showing good skills in moving the ball about and keeping a fast tempo. Dominick Springer came on in the front row and showed each game he is improving.
Reece Davies and Lewis Vandervord were introduced on to the wings and both got stuck in early. About half way through the second half, after huge Thanet pressure Panteli took a quick ball and passed on to Evans who powered over, which Panteli kicked over to give us a 31-12 lead.
Brandon Davies was introduced, playing his second ever game, gaining brilliant experience and showed good positioning. We were awarded another penalty that Panteli kicked but it just went the wrong side of the posts, although I was convinced it had gone over as it was so close. Panteli really has improved his kicking and has become very consistent, from lots of hard work and practice.
Thanet closed the game out with further pressure on the Dover try line which resulted in Smith crashing over for his well deserved second. Soon after the final whistle went.
High praise for Harry Price, who was our referee for the match. He controlled the game brilliantly and gained all round respect from the players and those watching alike.
The final score was Thanet 36- Dover 12. Another good performance by the Thanet squad with plenty of lads gaining more valuable experience. Thanet also having to experience coming from behind and adapting to changes. Dover gave a great account of themselves as always too. The Under 16s move on next week to to play Gravesend, again at home.