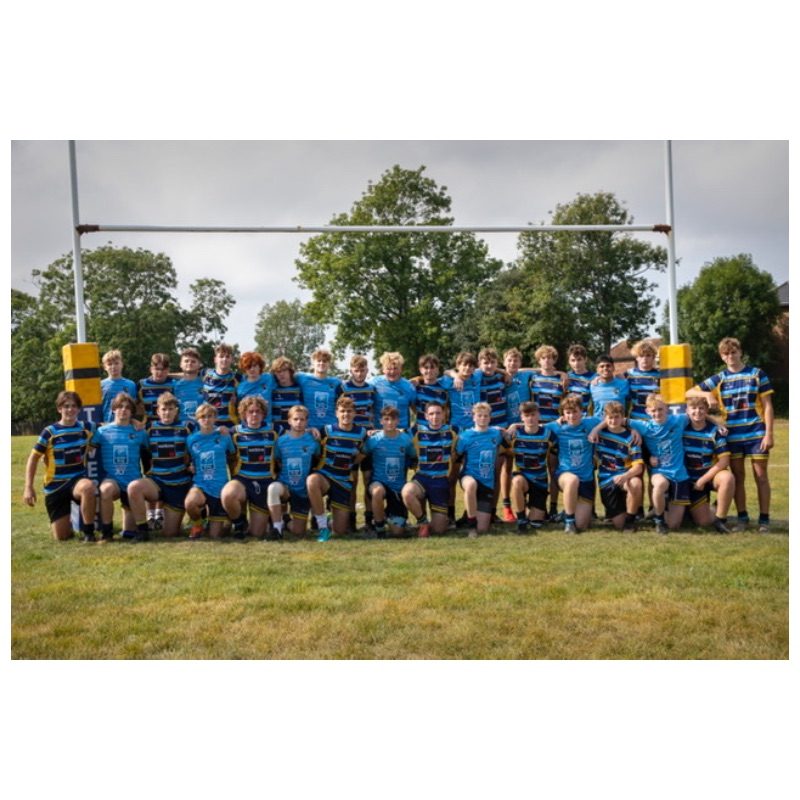 Match Report & Information
Sunday 12th September 2021.
Thanet Wanderers 5 Tonbridge Juddians 0
Second week into the season and the sun was still shining on St Peter's Rec for another glorious day of rugby at the club. I can't believe I'm saying this, but the pitches probably could have done with some rain! The Under 16s following their fixture last week we're lucky enough to gain another game against a decent Tonbridge Juddians side.
We had picked a large squad of around 30 lads, fielding two different sides in each half and giving Wanderers debuts to eight new lads, using the fixture as a development one to give experience to a lot of our players.
The lads were briefed but with such a large match day squad, it would be changeable and some would be playing out of position but we were confident they could rise to the occasion. The game kicked off and straight away it was a physical contest between the two sides.
Max Anderson captaining the side from the front row, was helping John Bray, Josh McCulley making their debut in this half both playing in the second row and both putting in a good shift. Zach Ralph starting at 9 was seeing a lot of the ball and was using it wisely. Fred O'Halloran, Hugo Evans, Toby Hunt, Isaac Divine and Finn Hickmott were all having to work hard in making big hits and brave carries in what was a keenly contested initial section of the game.
Some good play by Shaheer Khan winning the ball and then quick passing freed off Kai Clarricoats only for some last ditch tackling from Judds to stop Thanet going through and scoring.
About midway through the half, after some Tonbridge pressure, Thanet kicked clear from their lines. While the ball was in the air, Hunt and a Judds lad both fully fixed on the ball jumped at speed to claim it. Unfortunately the Judds lad just got it first and Hunts momentum cleared him out, no malice involved just pure commitment on both lads and unlucky timing. Hunt took a yellow but also went off injured at that point, which was a shame for him as he was having a great game.
Harvey Stocker playing at Full back showed he could adapt his game to play an unfamiliar position but played with good positioning and composure, as he had always played there.
A few minutes before half time, Thanet finally got the ball wide. After great play by Gil Smith, who played strongly all game, to win the ball and then pass on to Henry Carruthers, who powered forward, fixed the defender and got the ball wide, where it found Ewan Maclean on the wing who showed great pace and determination to get over the line and put us in front. Theo Rowe playing 10, took the conversion but in doing so injured himself and had to come off, with Charlie Panteli coming on to replace him.
Half time came with Thanet leading a tight game 5-0. The boys that had played the first half had done well and handed the baton over to the second half team to protect that lead and to try and further the score.
The second half team took their place on the field with Reece Davies, Marshall Pusey , Harry Burley , Lewis Vandervord, Joseph Near and Brandon Davies all making their debut and again all played well, gained valuable experience and all contributed towards the team performance.
The second half followed a pattern much similar to the first with both sides probably guilty of getting involved in a physical contest with lots of mauls and rucks and not putting it through their hands enough to get it wide.
Dominick Springer and Jack Brewer had now joined the front row of the pack. Near and Alex Baker making up our second row. Linus Honey was playing at 7, and carried on where he left off in training, putting some massive tackles in, great determination and never giving up.
Sam Stevenson was at 9 and Will Durrant at 10 and both of them dictated play. Both at times had to use their kicking game and were always ready to start off the next phase of play.
Vandervord playing his first game for us and at Fall back, held some very tricky balls that had been kicked high and still managed to make some good gains on the pitch.
With all the changes made by Thanet, and Judds keeping to the 19/20 they had, it would have been easy to think we would have been disjointed and not shown a good team performance. It may not have been the free scoring performance we have come used to over the last few years, but it was none the less important as they learned to ground out a result and protect a narrow lead while looking after some very inexperienced players on our side.
Big particular performances from Smith, Carruthers, Anderson, O'Halloran and Devine to help the new lads and push the team on.
The Final score was Thanet 5 Tonbridge 0. Not a high scoring game but it importantly gave lots of our new lads who needed the experience, some much needed exposure to playing for the club. The win was great but today we managed to to field around 30 of our squad with the other lads not playing today supporting from the sidelines, showing great strength in depth and that the squad as a whole is moving in the right direction.
We now move on to further games, looking to give more exposure to the new lads and to push the others to greater heights. A hugely positive start to the new season and a even bigger feeling of relief just to be back playing after the last 18 months.