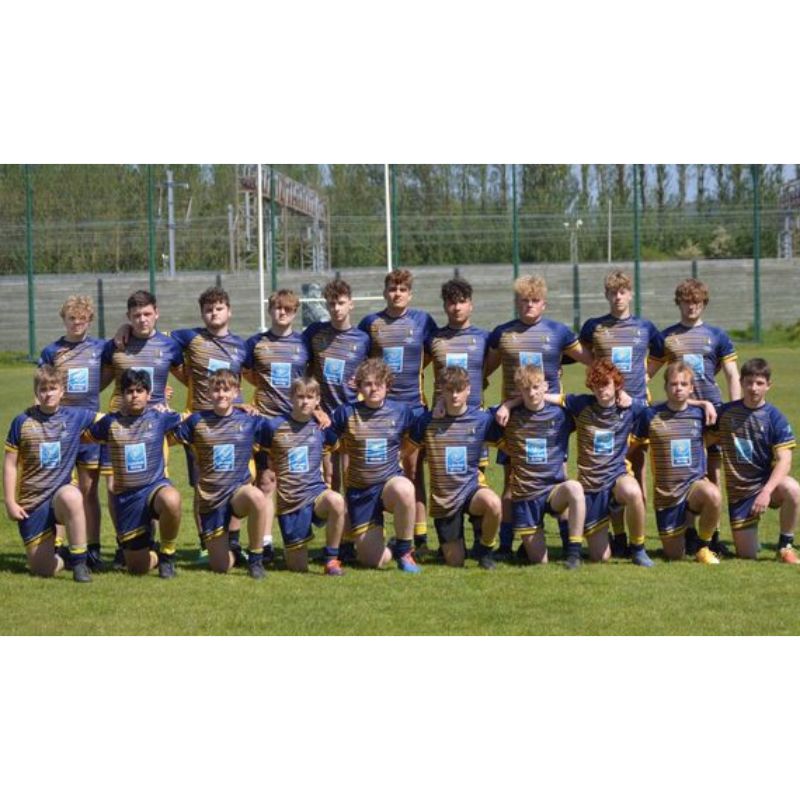 Match Report & Information
On the back of a great win the previous week Thanet Wanderers under 15s travelled over to Folkestone to be met by glorious sunshine and brilliant hosts. Thanet made eight changes from the previous week's match to give the whole squad game time, but the boys were asked to maintain the same standards set by last week's team. On this occasion, we had a squad of 20 players against a Folkestone team who had always provided great competition over the years. The match was split into three twenty-minute thirds with water breaks in between. The boys were given their match instructions and were ready to unleash their rugby prowess in this rugby starved season. Thanet had a number of lads making their debut and all were looking forward to starting their rugby journey. The game kicked off and very soon, Ben Couldridge made a huge tackle that stopped a very good Folkestone centre. Unfortunately for Couldridge he sustained a knee injury during the process and he had to leave the field. Not how he had wanted the game to go, but hopefully he will come back stronger for next season. Vinnie Perkins came on for Couldridge and was immediately into the action. Thanet instigated a number of strong attacks with Gil Smith, Shaheer Khan and Henry Carruthers testing the Folkestone defence but some great last-ditch tackling from Folkestone stopped them all in their tracks. After another sustained period of pressure with good work from Isaac Divine, Dominick Springer and Harvey Stocker a chance was created which was finished off by Kai Clarricoats and converted by Charlie Panteli. Soon after the opening score, some brilliant work to regain the ball with Finley Hickmott and Alex Baker rucking strongly and Divine showing some Herculean strength, Smith was presented with the ball and he showed the desire we had asked of the boys to get to the try line and score his first of the day. Thanet were now 12-0 up. In the closing minutes of the first third some great teamwork shown by Linus Honey, Ewan Maclean, Khan and Springer resulted in debutant Baker getting his first try for the club which meant Thanet went into the first water break 17-0 to the good.
Some team changes were made but in the baking sunshine, the players showed their great fitness and togetherness to come out wanting more of the same. Soon after the restart, another debutant, Joseph Near, showed fantastic confidence to make a great run to make ground for the team. Following this, great work from Khan, Baker and Divine led to Thanet creating a chance close to the Folkestone try zone. Quick thinking from scrum-half Stocker led to a pass to Tom O'Callaghan who made a brilliant pass wide to release Ball who made a trademark wide run for his first score of the day. This was quickly followed by another lung-busting run from Perkins who delivered a pass to Ball, who was well supported by Smith and Oscar Andrews, with Andrews finally getting the touchdown.To their credit Folkestone did not let their heads drop and continued to try and run the ball and got their reward with a try, which was then converted, Thanet were now up 27-7. Thanet immediately hit back applying good pressure and some good ball retention initially by Hickmott, saw the ball pass from O'Callaghan to Perkins to Smith who unselfishly passed wide for Andrews who got his second try. Thanet finished the second period with further great running from Panteli, Clarricoats and McClean. The rucking of Thanet today was superb as they won back the ball from Folkestone on many occasions, with Carruthers, Divine and Smith being at the centre of the action. As the whistle to end the period drew near there was time for one more try. Pressure from Thanet caused a panicked kick from Folkestone which went wide and was picked up by Ball. He had a fair distance to cover, but he showed great pace to run in a try and placed the ball down under the posts to give Panteli an easy conversion to finish the period with Thanet 39-7 in front.
Going into the third period more team changes were made with Max Anderson and Sam Stevenson joining the game. Thanet suffered another injury but decided to challenge our lads further by playing with a player down with only fourteen on the field. Thanet continued to dominate and after another strong break, forward Perkins powerfully broke free and managed to pass to Stevenson whose quick draw and pass freed Panteli allowing him to score in the corner. After great work to regain the ball, Panteli broke free and passed on to Smith who immediately passed back and with super-fast hands passed onto the free-running O'Callaghan for him to score under the posts, which Panteli converted. Thanet were now 51-7 ahead. Thanet suffered yet another injury, but we decided to carry on with thirteen players. Brilliant hands and work rate from Stevenson, Hickmott, Carruthers and Anderson led to Panteli being freed again, but with plenty to do. He sold a great dummy and then passed to Smith. Smith was wide out with one player to beat but he showed excellent movement to sidestep the on-coming defender and then run in his second try, which Panteli duly converted. Folkestone supporters got a great moment to cheer when a debutant on their side scored his first try for the club to reduce the score to 58-12. The last try of the day was saved for Thanet's team captain Anderson. After strong pressure work from Smith, Near and Honey the move was finished off by Anderson. A well-deserved score and Thanet's last of the day. The final score was Thanet 63- Folkestone 12. This was another great team performance from the lads, full of determination, effort and strong aggressive rugby that showed our expansive running game to good effect.This was the last game of the 2020/21 season. This has been an unprecedented season with a pandemic causing lock downs, limited rugby, virtual workouts and homeschooling, but Thanet Wanderers' Under 15s boys have been brilliant throughout and have shown massive commitment. As ever we are very proud of them all.