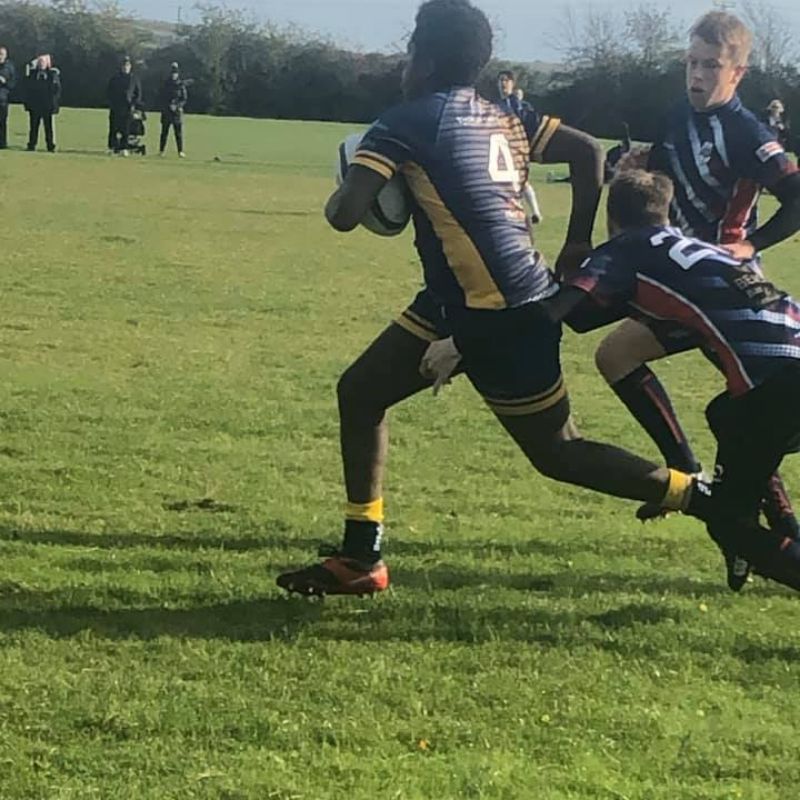 Match Report & Information
TWRUFC U15s travelled to old rivals SAS (Sheppey and Sittingbourne) on Sunday 3rd November 2019. They were met with surprising conditions in the fact that the sun does actually shine on Sheppey! For the first time ever the game was played in glorious sunshine although conditions underfoot were wet and muddy leading to a lot of loose ball!
TWRUFC received the kick playing up hill in the first half, utilising the half game rule it was decided the Development players would start with Big T making only his second appearance in a TWRUFC shirt. The first 5 minutes were a scrappy affair with both side getting used to the wet ball. TWRUFC then started to gain forward dominance and some good strong runs from Sam M and Big T lead to Charlie W picking and going from a ruck 5 yards out and crashing over for the first score after 6 mins. This was well converted by Fly half Harrison Q. The game then went stale for a while with both sides cancelling out each other's attacks with some good strong defence, Before No 8 Sam M scored the first of 2 tries before Half time with good pick up and go's from the scrum, 1 of which was converted by Harrison Q. Thanet lost Luke D to injury before half time and some reorganising in the back line took place, another injury then occurred with Owen J playing on with what transpired to be a dislocated arm! Thanet lead 19 – nil at the break.
Both sides made changes at half time with some more A team players being put on. TWRUFC then failed to take advantage of the downhill half spilling lots of potential good ball before after 12 mins Josh P set of on one of his strong quick runs beating several defenders to sprint clear to the corner, unfortunately Harrison was unable to convert.
5 mins later SAS took advantage of a lapse in the otherwise good TWRUFC defence to crash over under the posts after a quickly taken penalty. Scores now 24 to 7 to TWRUFC. Thanet then reaped the rewards of some SAS transgressions including an last minute yellow card for an off the ball shove on the TWRUFC scrum half.
In the last minute Johnny R took a quick penalty deep inside his own half and went off on a storming run leaving a trail of SAS defenders in his wake as he ran ¾ the length of the pitch to score under the posts for a final score, again well converted by Harrison Q.
Johnny R subsequently named POW for this outstanding run and try, although mention goes to Big T for some good strong runs in only his second game and the backrow trio of Sam M, Flynn S and Frankie E who are becoming a great attacking and defensive unit together. Max R and James P ran some good strong runs in the centres however the final pass often went astray. The front row of Charlie W, Tom K and Rhys scrummaged well against a much bigger SAS pack.
SQUAD: Charlie W, Rhys T, Tom K, Dennis D, Timarlie S, Sam M, Flynn S, Frankie E, Owen J, Harrison Q, Max R, James P (C), Josh O'D, Josh P, Luke D, Ben B, Joe S, Farzaam Y, Johnny R, Josh J