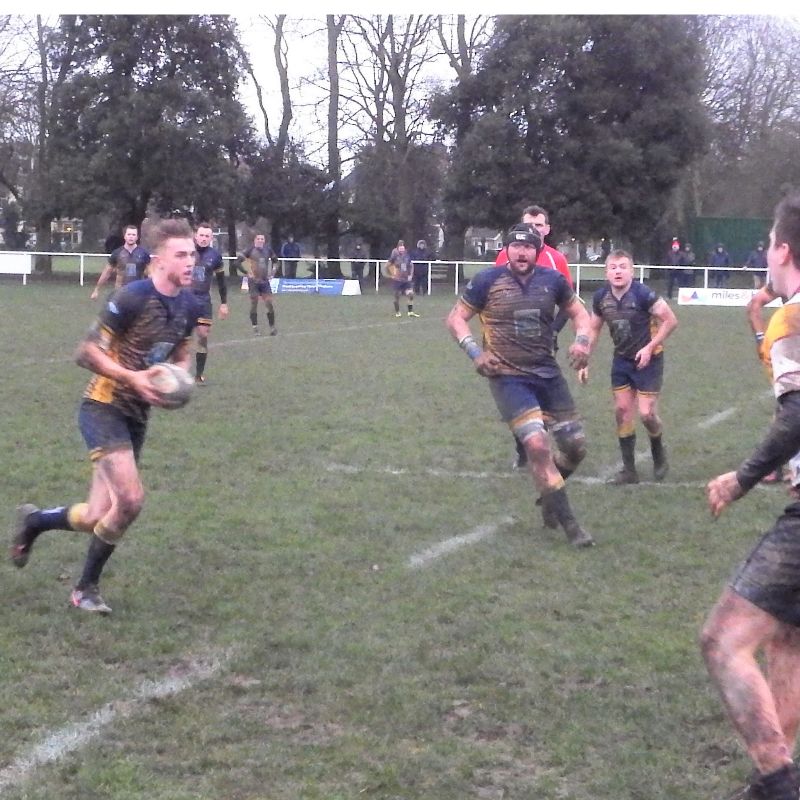 Match Report & Information
THANET WANDERERS RUFC 19-28 OLD COLFEIANS RFC 28
Late comeback is in vain for Wanderers against high flying Colfes.
For Wanderers there was a start for Jon Walker-Smith at Loose Head with the regular starter Danny Clement likely to miss the rest of the season due to a finger fracture. Adam Gaddes returned to the second row and Sam Taylor was back at open side. James Langridge stepped up at scrum half with Dan Hill also back at outside centre after a lengthy absence. Charlie Knight moved to the wing.
Storm Dennis was late in arriving so despite a high wind blowing up the slope there was little rain for the early stages of the game. Wanderers kicked off up the slope with the wind behind them. There were plenty of early errors from both sides with the gusting wind and a wet ball. Langridge chipped ahead for Hill to catch but the visitors' defence was sound. Wanderers were looking lively but Colfes were a constant danger when they ran directly. Good tackles from Marius Thompson and Brett Scott and a long clearance from Nick Herbert kept Wanderers in the opposition's half. Taylor and Knight combined well before a penalty was followed by a well managed series of phases before Walker-Smith went over from close range. Hill judged his conversion perfectly and Wanderers led 7-0 after 20 minutes. Hill and Cam Pond formed a promising partnership in Wanderers midfield and Nick Herbert used the wind well to gain field position. However both sides will have been frustrated with the number of errors that halted promising attacks as the weather deteriorated. Just after the half an hour mark Colfes chose to scrummage a penalty from 15 metres out and in front of the posts. Their big pack battered away and despite committed defence powered over for the try witch was converted to tie the scores at 7-7. Thanet went all out for further scores in the remaining minutes of the half without success and went into the break conscious that with just one try scored they faced a tough second half.
Dave Kingham replaced Walker Smith for the second half to make his first team debut. Dave was a junior at Thanet but has been away from rugby for some years before rejoining earlier this season. He has impressed in the 2s and earned his opportunity at a higher level. He will have wondered what he he let himself in for as the visitors turned up the pressure up front to open the second half. A penalty from a scrum offence took Colfes to 15 metres out and multiple phases later their full back crossed near the posts and the conversion put them 14-7 ahead. Hill made an important tackle before intercepting and going clear towards the line before tired legs and the sticky mud allowed the opposition to haul him down. He was subbed shortly afterwards following a very satisfactory return to first XV duty. Louis Marshall replaced him. Winger Ant Theosidou carved through the visitors' defence but was dragged down. Around the hour mark Colfes scored two tries in two minutes, both close to the posts, to lead 28-7. Kris Finneran had replaced Alex Veck after his good shift in the second row and his fine tackle now saved an almost certain further score. Great credit to Thanet that they now raised a spirited fightback and a promising advance was illegally stopped by Colfe's No 8 earning himself a yellow card. A try from the restart followed from Adam Gaddes on his return to the first team ranks after some powerful driving play from Wanderers. Time was running out but Wanderers were now playing some quality rugby with Kingham catching well at pace before Knight was stopped only by a last gasp tackle. Further progress was again halted by some skulduggery that saw a Colfes prop also receive yellow and reduced his team to thirteen players. A minute later Thanet crossed for a third try scored by Tighthead prop Luke Tolley. This was his first try of the season and some reward for a player who has worked hard on his fitness and stamina to regularly play an important part in Wanderers pack. Herbert's conversion made the score 19-28. There was time for the restart and another determined drive from Thanet led by Marshall but Wanderers couldn't squeeze out a bonus point despite a performance that pleased the many sponsors who had attended their annual lunch earlier. The disappointment at failing to take anything from the match was etched on the faces of the home side. Captain Neil Wakefield knows that there is the ability within the side to retain their position in this league but that stern tests lie ahead starting at League leaders Haywards Heath next Saturday (Kick Off 2.30)
James Langridge stepped up to play well at scrum half and tackled bravely. Andy Letts and Brett Scott battled hard against some very big opposition but today's Man of the Match award was again sponsored by Miles and Barr and went to their popular back row team mate Sam Taylor who was outstanding on his return to first team duty.
SQUAD; Walker-Smith, Wakefield (C.), Tolley, Veck, Gaddes, Scott, Taylor, Letts, Langridge, Herbert, Knight, Pond Hill, Theodosiou, Thompson. Subs: Kingham, Finneran, Marshall